Loosely Loaded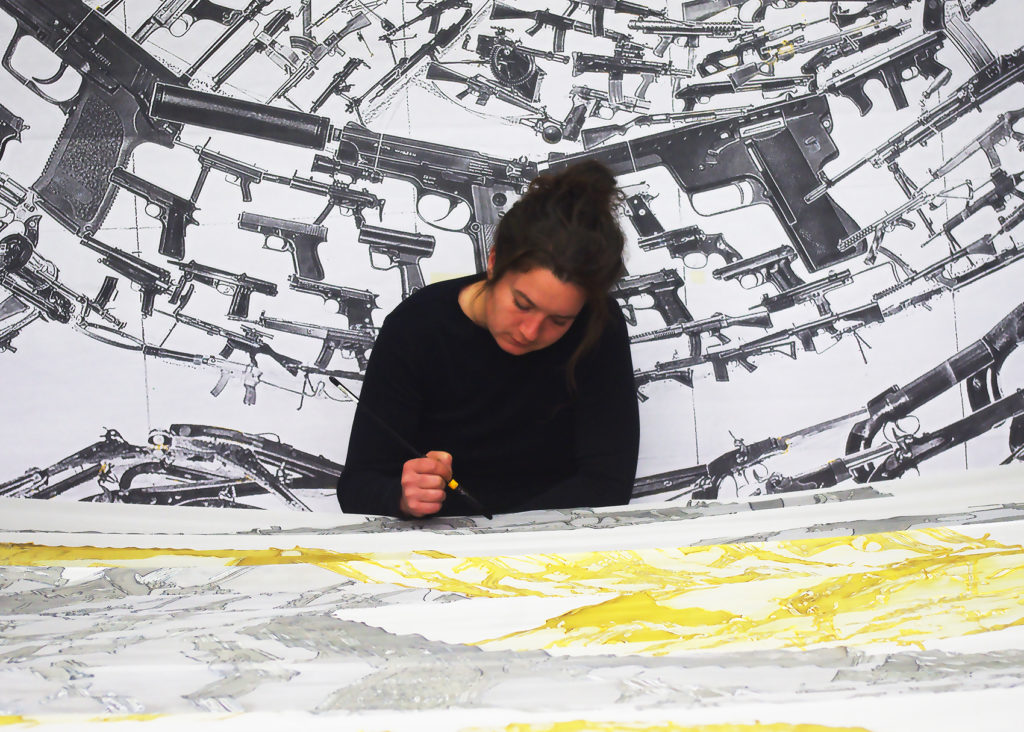 Silk, while beautiful, isn't an easy material to work with. It snags and stains, marks and puckers. Images, once drawn on silk, aren't easily erased or edited. And dyes that are applied to the material frequently bleed together with unexpected results.
Artist Emily Erb forgives the material all these qualities. Silk is affordable, portable and—most important to Erb—possesses a fluidity that allows her to reflect on a world in which lines between right and wrong are easily blurred.
This Friday, Erb opens an exhibition, "Loosely Loaded," at the Visual Arts Center of Richmond. A 5:30 p.m. artist talk will be followed by an opening reception that will run from 6 to 8 p.m. The exhibition, which will run through August 28, features 12 large silk paintings and includes some of Erb's most political work to date.
Erb learned to paint on silk as an undergraduate art student at Temple University's Tyler School of Art, but it wasn't until she traveled to Madagascar after college that she fully embraced the medium. Silk was easy to roll up and pack in her suitcase.
When she arrived in Antananarivo, unfurled the fabric and set to work painting, the locals she met immediately put her in touch with an elderly woman who painted silk using ancient Indian techniques. The woman spoke no English and Erb no Malagasy. The French they used was broken at best but silk painting was a language the two shared. Erb offered the woman her painting supplies in exchange for the chance to work and learn alongside her.
"I had always thought 'I will never trace anything,' but she kept giving me patterns to trace, and eventually I started. It makes sense because the medium is so unforgiving," says Erb.
Once Erb embraced the idea of tracing images onto silk, she encountered new ideas and inspiration everywhere. She perused old books and magazines, finding images that suited her projects and using them to create intricate collages that she then transposed onto silk.
Upon her return to the United States, Erb launched a large-scale map project, creating 37 maps on silk that, together, documented human history. "The maps helped me figure out what I wanted to say about the world," says Erb. "I was also learning just how large and complicated I could go."
For her next project, Erb did indeed go large and complicated, painting a modern-day version of Hieronymus Bosch's "Garden of Earthly Delights." For that piece, Erb searched for images that made her laugh—scouring old microwave cookbooks and first aid manuals for source material.
Erb uses water-based Gutta fabric Resist to outline the collaged images she traces onto the silk; when she brushes liquid dye onto the silk, the Resist creates a barrier that keeps the various colors from running together.
Erb is always on the lookout for visual images that inspire. A book on American currency that Erb found in a used bookstore in Philadelphia ultimately led to the body of work, "Legal Tender," which she exhibited at the Museum of American Finance on Wall Street. A buyer's guide to handguns inspired some of the work in "Loosely Loaded."
"I live in Philadelphia and it's a violent city. Just two days ago, I was watching two guys shooting at each other out my window. There have been so many mass shootings, and I had to ask myself, 'What can I say about this?' We're American and we have this huge industry that relies on the continuation of violence around the world. That is what weapons manufacturing is all about. Meanwhile at home, reports of mass shootings inspire many of our citizens to go out and buy more guns, fearing sales may be restricted and prices may go up as a result of the tragedy."
"Loosely Loaded" presents for the first time selections from the eight-part series, Narratives, inspired by poet Rainer Maria Rilke's "Book of Hours: Love Poems to God." Other work critically interrogates symbols such as the ouroboros, cross, diamond and biohazard sign.
When Erb attended graduate school at the Pennsylvania Academy of Fine Art, she experimented with new media and new silk painting techniques but she kept coming back to the process she's spent the last decade refining.
"If I ever have a message that I can't use a silk painting to convey, I'll change the way I work," says Erb. "But [silk painting] is a language I've created for myself, and it's working."