Artists Unveil New Work at VisArts' Contemporary Quilts Exhibition
The Visual Arts Center of Richmond's newest exhibition explores how contemporary artists are reinterpreting traditional quilt making processes in their own practices. At the Friday, Dec. 1 opening reception, two of the 13 selected American artists in the show are unveiling brand new work.
Aaron McIntosh is the only Richmond-based artist among the 13 exhibitors. The new piece he created for the show grew out of his Invasive Queer Kudzu Project, which involves sharing the stories of southern LGBTQ people on quilted Kudzu leaves. "The piece I have in the show is a 13-foot-tall quilted palm tree that is a monument and a memorial to the victims of the Pulse nightclub shooting in 2016," McIntosh said.
Colorado-based artist Gina Adams also created new work for the exhibition – with Richmond in mind, she produced a quilt rooted in Virginia history. Adams, who has a Native American heritage, has created a series of quilts adorned with hand cut, calico fabric letters that form words and phrases from Native American and U.S. Government broken treaties.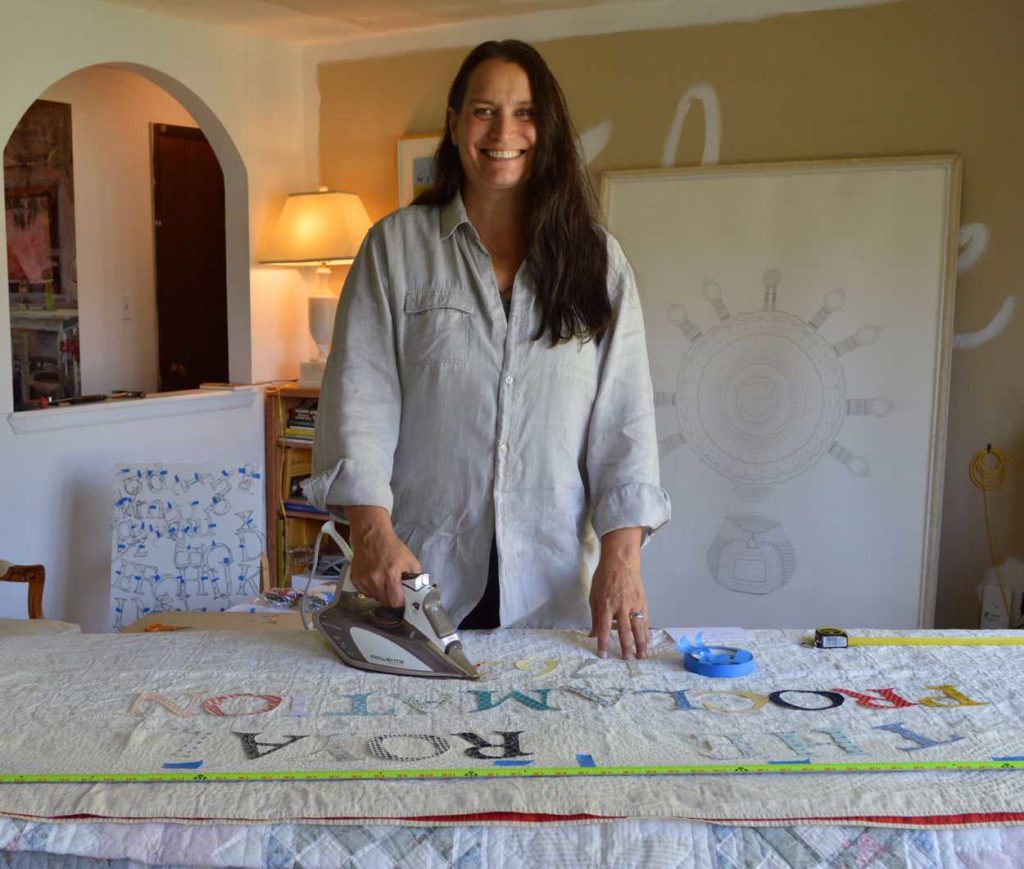 The broken treaty quilt she made for VisArts' exhibition features language from the Treaty of Middle Plantation, a broken treaty that was signed near Richmond. The hand stitched, antique quilt she used pre-dates the Civil War and felt like a perfect canvas for the calico text, the artist said.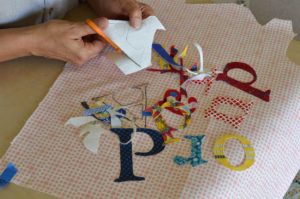 "Every time I'm asked to be in an exhibition, it's my goal to create a broken treaty quilt with a treaty from that area," Adams added. "That's my way of saying 'hello' to indigenous ancestors from the area."
McIntosh and Adams are both fourth generation quilters. "Quilts are the first art form that I was exposed to," McIntosh said. The Tennessee native said he's interested in being an emissary of quilting traditions – bringing them into the realm of contemporary art and craft.
For the Richmond-based artist and VCU instructor, it's important to look at quilts as a platform for approaching contemporary subject matter, political unrest, identity and self-expression. To use quilts as a truly loaded medium, it's necessary to strip away their "charming, Americana status," he added.
"I feel like I'm in good company because everyone in the show is confronting expectations or colliding and collaging cultural expectations for quilt making," McIntosh added. "There's a lot of respect for the traditions of quilt making in the show and there are a number of people who go way over the edge and are asking questions like: what defines a quilt?"
The exhibition, titled "The Embedded Message: Quilting in Contemporary Art," opens in VisArts' True F. Luck Gallery on Friday, December 1. A 5:30 p.m. curator talk will be followed by a public reception from 6 to 8 p.m. Three of the exhibitors will be in Richmond for the event, including McIntosh, Adams and Tennessee-based artist Vadis Turner.
(Photos by Masha Sha)