Carter Reid to Receive Distinguished Service Award at Collectors' Night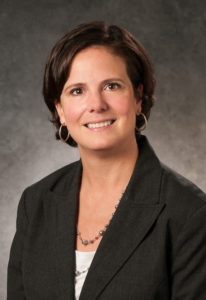 The Visual Arts Center of Richmond will recognize Carter Reid with its Distinguished Service Award at Collectors' Night on Saturday, March 18.
The Distinguished Service Award honors a longtime friend of the Visual Arts Center of Richmond who has demonstrated a sustained and extraordinary commitment to the organization.
Reid is the senior vice president, chief administrative & compliance officer of Dominion Resources, where she has worked since 1996. She served on the Visual Arts Center's board of directors from 2008 to 2014 and chaired the board from 2012 to 2014.
Reid credits Don Mosman with first introducing her to VisArts at a friend-raising event, and Anne Grier with recruiting her to join the board, but is quick to give the real credit to VisArts' outreach programs. "What really inspired me to get involved were the Art After School and Make Space programs," said Reid, "Programming for at-risk kids was an immediate draw for me."
During her time on the board, Reid oversaw the growth of other outreach programs, in addition to the programs focused on school-aged children. In partnership with Dominion, VisArts launched an arts program for veterans, and also grew its Studio S program, which offers free art classes to seniors in Richmond's East End.
Last year, Dominion and the Dominion Foundation gave more than $26 million to underwrite a wide range of charitable endeavors, including innovate projects in the visual and performing arts. "We work with literally hundreds of non-profits every year, and we view each one as an equal partnership," said Reid, of Dominion's community involvement. "And we're especially proud of the partnership we have with VisArts – it allows us to support the vital work of using art to engage and inspire people, helping them view the world around them in new and different ways."
"Dominion has had a longstanding relationship with VisArts," said David Sylvia, who followed Reid as board chair, "but what I really appreciated about Carter was her ability to harness Dominion's intellectual resources, which were often just as impactful as their financial resources. Whether we needed financial advice or help with HR, she was always willing to seek that out."
Reid led the board during a period of great transition for the organization. The capital campaign and subsequent renovation of VisArts' 1812 W. Main Street building was over, and the organization faced a new challenge—surviving the recession without cutting vital community programs.
Reid helped the organization refocus—going after more corporate support and partnering with community groups, such as the YMCA, to leverage VisArts' resources. "We didn't want to compete for dollars but rather work together to fill needs," said Reid.
Reid also worked hard to recruit new board members who brought their own talents to the organization. Mark Webb, Martha Chapman and Josh Kayer were all recruited during Reid's tenure as board chair.
"We wanted people who had some kind of personal connection to VisArts, people who were willing to commit and engage," said Reid. "One of the things that makes VisArts so special is the diversity of its board, with artists, teachers and professionals working together to support and advance this great organization."
Reid currently serves on the boards of directors of Energy Insurance Mutual, the Virginia Repertory Theatre and Richmond World Affairs Council, and on the board of trustees of Collegiate School. A graduate of James Madison University, Reid received her law degree from the University of Richmond's T.C. Williams School of Law. She and her husband, Joe, have two children, Katherine and Will.
Tickets to Collectors' Night are still available and can be purchased at visarts.org. Reid has always been a big fan of the VisArts fundraiser. "This is my favorite event in Richmond, and over the years has been the source of much of our art—either directly from the auction, or through the connections we have made with the many generous artists that support this event," said Reid. "I'm still working on my wish list."