Former VisArts Student Returns to Richmond to Exhibit Work at Craft + Design
Ten years after taking his first sewing class at the Visual Arts Center of Richmond, fiber artist Paul Hansbarger is returning to Richmond to showcase his growing canvas and leather bag business, Lineage.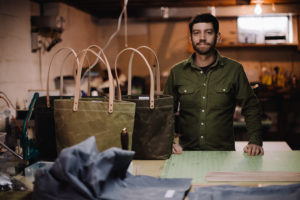 Hansbarger got his start making bags in Catherine Southall's introductory sewing class. He'd graduated from VCUarts in 2004 with a painting and printmaking degree and worked briefly at VisArts.
In Southall's "Intro to Sewing" class, Hansbarger made a small bike bag to carry tools. He kept sewing and a few years later, when he relocated to Montana, he started and ran a successful bike bag business, which he eventually sold when he moved back East.
Hansbarger returned to Virginia but not Richmond. Now he lives in Harrisonburg where he stays busy raising a family and making waxed canvas bags from his garage studio.
He'll travel to Richmond for VisArts' Craft + Design show in November and be counted among 130 artists chosen to showcase their work at the 53rd annual contemporary craft show. The event takes place the weekend before Thanksgiving—Nov. 17-19—in Main Street Station's recently renovated train shed.
"Craft + Design was definitely on my peripheral when I was living in Richmond," Hansbarger said. "I knew it was a showcase of pretty fantastic craft and design, but I hadn't developed my craft enough to participate."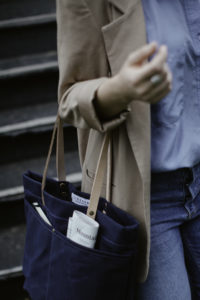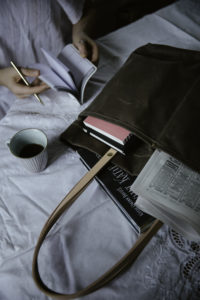 Now he's running Lineage full-time and working hard to keep up with the demand for his handcrafted, canvas bags and leather accessories. Hansbarger has been to over 20 craft shows this year, and he's seeing online sales pick up as word spreads about his products.
Hansbarger says Lineage began with a simple request from his then-pregnant wife. She wanted a diaper bag for their daughter. Since then, he's developed more designs and refined his products based on feedback from family, friends and others, but he hasn't strayed far from the "rugged and timeless" bag he made for his wife.
At Craft + Design, shoppers will see two new designs from Lineage. One is a backpack made of waxed canvas and leather. The other is small crossbody bag.
Hansbarger's vision for the future of his business includes a move to a larger, commercial workspace, possibly in downtown Harrisonburg. He imagines renting a spot that combines both retail space for selling his products and work space where he can bring on apprentices and expand to other mediums.
VisArts' 53rd annual Craft + Design Show will take place Nov. 17-19, 2017 at historic Main Street Station's newly renovated train shed. The show kicks off the holiday shopping season and features the work of over 130 artists.
Regular shopping hours run from 11 a.m. to 5 p.m. on both Sat., Nov. 18 and Sun., Nov. 19. General admission tickets cost $10. Weekend passes are $75 for members and $80 for the general public and include a ticket to Patrons' Preview, a ticket to Rise + Shine, unlimited admission during regular shopping hours and free parking all weekend.
(Photos by Amelia Schmid and Katie Schmid)