Katie McBride returns to VisArts to illustrate Fall 2017 catalog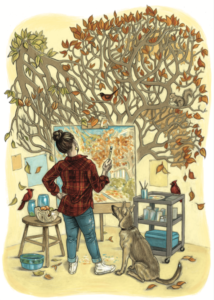 Richmond-based illustrator Katie McBride is the Visual Arts Center of Richmond's newest illustrator-in-residence, but illustrating the fall course catalog is far from her first contact with the 54-year-old community arts center.
Almost a decade ago, when McBride was a new VCUarts grad trying to launch a career as an illustrator, she paid her bills teaching VisArts art classes to both kids and adults. At one point, she was teaching as many as six classes each session.
"I miss teaching kids," said McBride, who spent many hours each week working with the students in VisArts' Art After School program. "Kids aren't afraid of computers or any of the design programs. I've seen kids turn in stuff they've made in PhotoShop, and I can't even figure out what they've done."
Today, McBride works as a senior graphic designer and illustrator for the University of Richmond and takes freelance projects when she can. "I subscribe to the rule, 'Only put out into the world what you want to make more of,'" said McBride. "If people see that you love drawing animals that do people things, for instance, they'll come back to you for that."
Freelance clients include Saveur.com, Venture Richmond/Richmond Folk Festival, Richmond Magazine, Richmond BizSense, Editor and Publisher Magazine and Hardywood Park Craft Brewery.
Each session, VisArts selects one artist to illustrate the organization's course catalog and promotional materials. Prior illustrators-in-residence have included Victoria Borges, Jared Burgess, Holly Camp, Maria Fabrizio and Elizabeth Graeber. Each illustrator receives an honorarium and is also invited to lead a class or workshop that ties directly back to his or her artistic practice.
For McBride, this means she'll lead a four-week class titled "Illustrating + Digital Drawing for Screen Printing." The class runs on Thursday evenings in November and was inspired by the work she's done illustrating posters for local organizations like the Richmond Folk Festival.
"I understood the concepts behind screen printing, but I had never produced art to be screen printed until I started working with Triple Stamp Press," said McBride. "There are a lot of tricks to help you work with color."
One of the best tricks McBride knows is for artists to reduce their color palette. "Pick three colors—a highlight, a mid-tone and a dark tone—and it's a lot harder to get yourself in trouble." Students in McBride's class will leave with a bagful of tricks and a digital image that's ready for screen printing, either at home or in a subsequent class.
Fans of McBride's work will also find the illustrator collaborating with several other arts organizations this fall. She's one of 10 illustrators who are contributing to Richmond Young Writers' Picture Book Project. The book McBride is illustrating was written by a 14-year-old girl named Yasmeen. "What she's written—it just blew me away," said McBride.
McBride is also teaming up with Curriculum Lab's Jonathan Lee on a project intended to bring attention to libraries. Participating artists receive 20 old library checkout cards, removed from the backs of de-accessioned books for young adults, and are charged with illustrating the titles—working directly on the old cards. Four hundred of the illustrated cards will go on exhibit at Studio Two Three starting November 3.
"This industry has changed a lot," said McBride. "Editorial illustration used to be the holy grail, but things are changing. To me, it feels more fluid."