On the Potter's Wheel and the Yoga Mat, VisArts Teacher Holly Zajur Leads a Mindful Approach to Ceramics
Holly Zajur is a VisArts ceramics instructor who believes that it's easier to center clay on a potter's wheel if your mind is centered.
Zajur is teaching a mindful approach to the craft in a brand new winter class called Mindfulness, Yoga + Wheel Throwing. She kicks off each session by guiding students through a 15 minute meditation in front of the potter's wheel. Next, she helps both beginners and experienced students hone their skills on the wheel. At the end of the three hour class, the group moves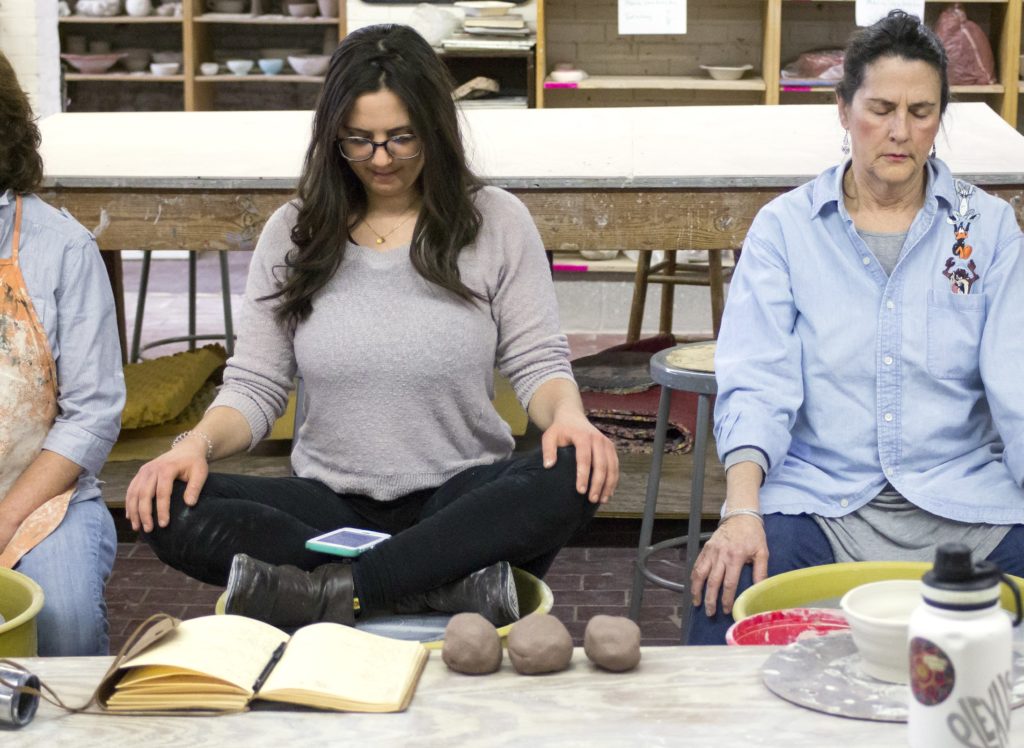 upstairs for a gentle yoga session in a quiet room. Back by popular demand, VisArts has added the class to its schedule for the spring session.
Zajur says it's incredibly beneficial to combine the practices of meditation, ceramics and yoga. Having been a yogi and a potter for nine years, she feels that the two practices are intertwined in her own life. "I notice the principles I'm practicing in yoga that I'm carrying into life also really apply on the wheel," Zajur said.
The class is built around the idea that meditation helps boost creativity and yoga or post-throwing stretches help relieve the soreness associated with leaning over a potter's wheel.
Zajur says she loves helping students learn how to take the pressure off of themselves and relish in the experience of making art. "If you're tuning into your mind, I think you're more able to create something unique," Zajur said. "You let go of that need to control and you start to listen to your intuition. I think you create more impactfully that way."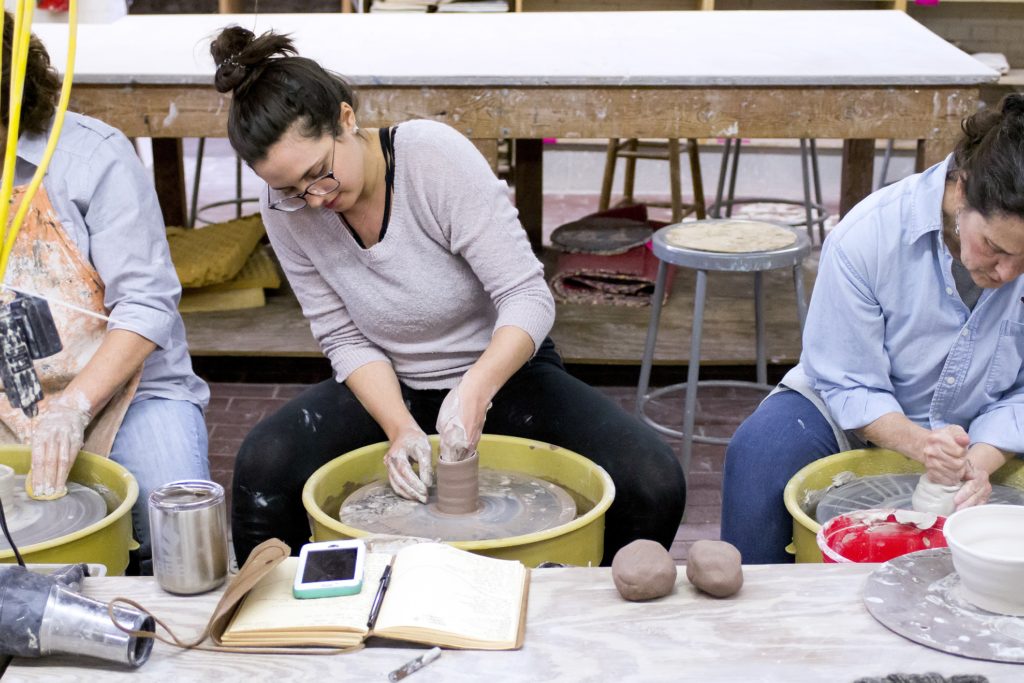 In ceramics, Zajur also believes it's important to think about working with the material, not against it. "There's something really powerful about working with clay as a medium because it's this natural, earth element that you're co-creating with," she said. "You're not in total control of the clay and you have to listen it. I think that mindfulness component helps you tune into yourself and then also to what the clay is telling you too."
The mindful approach certainly applies to other art media as well, Zajur says, and she hopes to help incorporate the theory in other studios at VisArts. A Richmond native, Zajur took her first clay class at VisArts while she was in high school. She went on to study in the IB Ceramics program at Trinity Episcopal School and co-founded the Ceramics Club at the University of Virginia during her time as an undergraduate. A few years out of school, she's back in her hometown working as the communications manager for Project Yoga Richmond. 
The spring iteration of Mindfulness, Yoga + Wheel Throwing starts on March 29 and runs through May 17, from 9:30 a.m. to 12:30 p.m. every Thursday.