VisArts to Honor Kathryn Gray with Distinguished Service Award at Collectors' Night
The walls of Kathryn Gray's studio at the Visual Arts Center of Richmond are lined with her oil paintings. The work is vibrant and bold and creates a lasting impression. But ask the people who have worked with Gray at VisArts, and they'll argue that it's her commitment to the 55-year-old community art center—first as a member of the board of directors and then as a volunteer—where she's made her most enduring marks, to date.
Gray will be honored for her contributions to the Center at its 32nd annual Collectors' Night art auction, set for Saturday, March 17. There she will be presented with the Distinguished Service Award, which honors a longtime friend of the Visual Arts Center of Richmond who has demonstrated a sustained and extraordinary commitment to the organization. VisArts has presented the award since 1987 and past recipients include Carter Reid, Priscilla Burbank and Rhona Arenstein, among many others.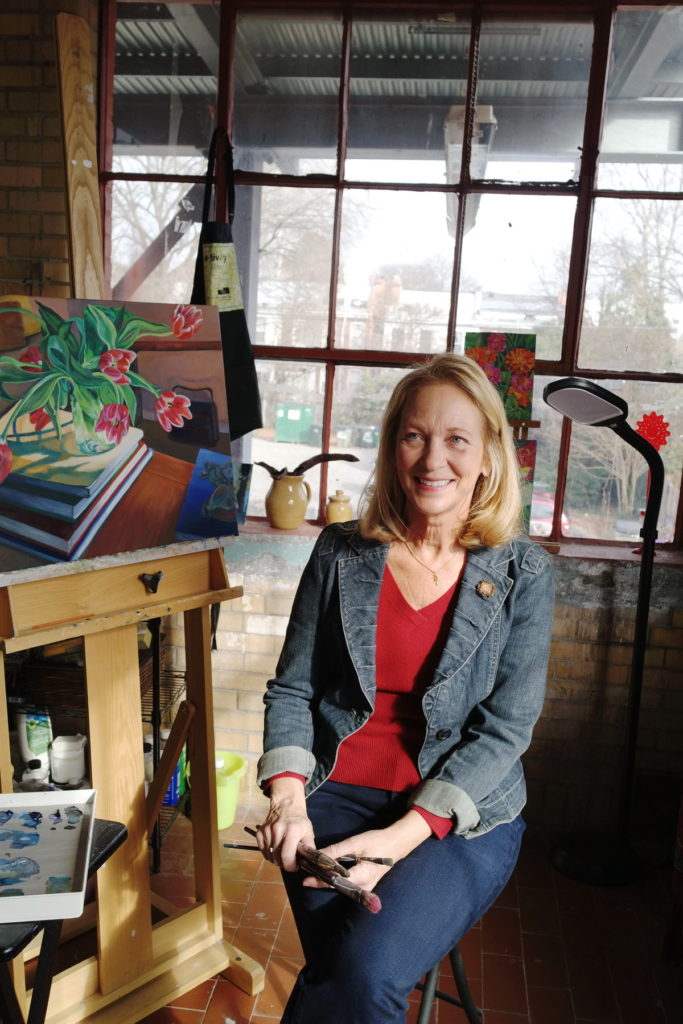 Gray got to know VisArts shortly after moving to Richmond in 2006. Her husband Alex Nyerges had recently been hired as the Director of the Virginia Museum of Fine Arts, and Gray was eager to familiarize herself with the city's art scene. She joined VisArts' board of directors in 2007, and one of her first assignments was to help define the center's new gallery space. "We were exploring ways to be more community-inclusive, which opened up new opportunities for partnerships with organizations throughout Central Virginia," she said. "These initial steps ultimately made exhibition programming more relevant to more people and created long lasting relationships with community partners."
When she became the chair of the board's education committee, her focus shifted to the Center's art classes. It was clear that, if VisArts could improve its online presence and invest in up-to-date registration software, it would attract and enroll more students. "I was doing whatever I could do to keep that idea in the spotlight," said Gray. VisArts launched its first online registration system in 2013, and today 52 percent of all course registrations happen via the web.
"We are so excited to recognize Kathryn for all the support she has given to the Visual Arts Center over the past eleven years," said VisArts Executive Director Stefanie Fedor. "It was apparent to me since day one of my arriving to Richmond the impact she had made in the arts community and her outstanding commitment to VisArts. She has brought many great ideas, energy and most importantly a lasting friendship to all of us in the VisArts community. "
It's fitting that Gray will be honored at Collectors' Night because, as the 2015 Chair of the Collectors' Night committee, Gray advocated for several big improvements to the fundraiser. She shepherded the event's move to an online auction platform, a decision which led to increased engagement and, ultimately, more bids. She also pioneered the event's guest curator program, which pairs artists with savvy, local collectors who get the opportunity to select the piece the artist will donate to the auction. "It was time to take some risks," said Gray. "Collectors' Night has been a wonderful event to watch evolve."
For as much as Gray gives to the Visual Arts Center of Richmond, she says she receives even more in return. The second-floor studio she has rented since 2013 affords her the space to grow her artistic practice and places her within earshot of youngsters attending afterschool and summer Artventure programs. The various ambient sounds of the Center also keep her inspired. "One of the things I really enjoy about being in my studio is hearing students in dialogue with their instructors," she said. Gray jokes that she forgoes listening to music in her studio because Tommy Van Auken's afterschool art classes make for a more inspiring soundtrack. "It's been such a gift to have a space where I can just walk in, have everything ready to go, have the environment that supports a studio and the inspiration of other artists around," said Gray.
Tables and individual tickets to Collectors' Night are on sale now and donations can be made in Gray's honor through the same ticketing platform. This year's theme, "The Darkroom," highlights the Visual Arts Center of Richmond's photography program and facilities. Proceeds from Collectors' Night support VisArts' education and outreach programs.