VisArts to Honor Former Board Member Brian Jackson with Distinguished Service Award at 33rd Annual Collectors' Night
Local attorney Brian Jackson will join the ranks of the Visual Arts Center of Richmond's past Distinguished Service Award winners on March 16 when he is honored for his contributions to the community arts center at its 33rd annual Collectors' Night art auction. During the seven years he served on VisArts' board, Jackson led the way on several important initiatives.
The Distinguished Service Award honors a longtime friend of VisArts who has demonstrated a sustained and extraordinary commitment to the organization. VisArts has presented the award since 1987 and past recipients include Carter Reid, Priscilla Burbank, Rhona Arenstein and Kathryn Gray among many others.
Jackson co-chairs the commercial real estate development practice group at Richmond law firm Hirschler. He has previously served as vice president and general counsel for Ukrop's Super Markets and was a former substitute judge for the Commonwealth of Virginia.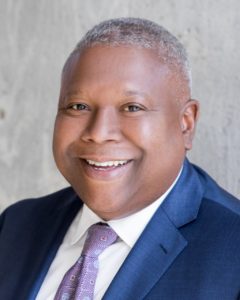 When he was asked to join VisArts' board in 2007, Jackson said it was a no-brainer. "I understood what VisArts brought to the community of Richmond," he said. "I'd admired the organization since my undergraduate years at VCU, when VisArts was known as the Hand Workshop."
Jackson joined the organization's board in 2008 and served until 2015. The contribution he says he's most proud of is his work to establish VisArts' junior board, the Visual Arts Creative Ambassadors, colloquially known as VACA. At other local non-profits, Jackson had seen junior boards succeed and he sensed that VisArts could benefit from having a pipeline of young professionals who could offer input, leadership and development support. He helped hand pick the first group of VACA members, seeking out a variety of artists and professionals to build a diverse junior board.
"I was excited about the possibilities of this group, and I'm proud that VACA is still thriving today," he said.
VisArts currently has 16 members on its junior board, representing organizations such as the Martin Agency, Altria, Genworth and Arts & Letters Creative Co.
Jackson also had a hand in bringing new leadership to the center. He oversaw a leadership change in 2012 and in 2015, he co-chaired the search committee that brought executive director Stefanie Fedor to the organization. The committee was in search of a leader who could spearhead VisArts' growth and who had valuable experience at a similar arts organization. "In the years following the 2007 capital campaign, I sensed this refreshing, new energy at VisArts," he said. "The organization had added more space and it was in growth mode."
During his time on the board, Jackson also left a mark on VisArts events such as Craft + Design and Collectors' Night. He encouraged the staff to consider a larger space for Craft + Design and bring more artist diversity to both of its large fundraisers.
Jackson's focus on supporting VisArts' events was driven by his appreciation for the center's community partnerships. One of the partnerships that is closest to his heart is VisArts' Make Space program, which pairs 12 sixth-grade girls—all of whom attend Anna Julia Cooper Episcopal School—with 12 women for a year of mentorship and art-making. "Make Space is a phenomenal program that touches the lives of so many underserved kids in Richmond," he said.
Since leaving the board in 2015, Jackson has made an effort to remain engaged with VisArts staff and board leadership. He said he believes that the creative community fostered by organizations like VisArts is an important part of what makes Richmond a great place to live.
"Art is so critical to place-making and that's what Richmond has been in need of for a long time," he said. "We've made Richmond cool and the visual arts are a big part of that."
Tables and individual tickets to Collectors' Night are on sale now and donations can be made in Jackson's honor through the same ticketing platform. This year's theme, "The Artist's Proof," highlights VisArts' new Vivian Keasler Letterpress + Book Art Studio. Proceeds from Collectors' Night support VisArts' education and outreach programs.