How to Navigate Craft + Design Online
by Chris Hairston-White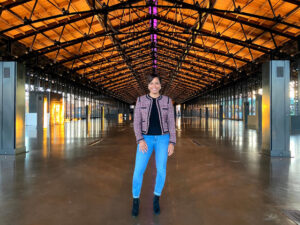 Welcome to Craft + Design Online, Presented by the Visual Arts Center of Richmond! As chair of the Craft + Design Committee this year, it's my pleasure to share a how-to guide for navigating and enjoying this year's virtual event.  With over 120 artists (including over 40 new artists) to shop and learn from, you'll need to prep and plan your approach. Feel free to follow my lead or use this guide to create a game plan of your own! 
For me, step one is to

 

put on 

comfy clothes

 

Every

 morning 

between now and November 29, I plan to

 

log on

 to visarts.org

 to see what's happening at the show

. The 

schedule page

 

is the best place to start your day at Craft + Design 

Online.

 

I'm going to k

eep 

my

 credit card handy 

so that when I find the perfect gift, I'm ready to check out 

through participating artists' websites. 

From the 

artist page

 at visarts.org, you can navigate to each exhibitor's site to shop their work!

 
Let's start shopping! I'm looking forward to supporting small business owners from around the country AND supporting the Visual Arts Center of Richmond by giving a donation of $10 or more as my virtual admission ticket price. 
Shopping 
Craft + Design Online: Saturday, November 21 through Sunday, November 29
Head over to the full artist list!

You can find your favorite

 Craft + Design artists

, or a 

search for a 

new favorite

. A

rtist

s

 

are listed by medium and by name, so it's easy to find what you're looking for

.

 

 

F

ound an artist (or a dozen)

 that you'd like to shop?

 Click on their image or

 the

 website

 link below their name

 and you'

ll be redirected to this artist's online store. Transactions, communications and shipping arrangements are the responsibility of the artist and buyer. 
This year's virtual event is a dream come true for art collectors, shopaholics and art lovers from Richmond and beyond. You'll have the opportunity to meet these talented artists (virtually), through studio tours and demos on Instagram, and you could even get in on the art-making action by completing one of the art projects in the Virtual Weinstein Properties Education Wing + Demonstration Station. Throughout the week, artists will be going live on their own social media channels and on VisArts' Instagram page (@visartsrva). 
Again, if you're wondering what's happening at Craft + Design Online, check out the full line-up of programs on the schedule page. 
Here are my top picks! These are virtual events I know I'll be attending: 
Saturday, November 21 – Jewelry 
It's all about the bling and sparkle
Eileen Sutton (Jewelry) – Live on Instagram – 11:30

 

a.m.

 

Bethany James (Jewelry) – Live on Instagram – 12

 

p.m.

 

Rebecca Perea-Kane (Jewelry) – Live on Instagram – 4

 

p.m.

 

Hilary Hertzler (Jewelry) – Live on Instagram – 4:30

 

p.m.

 
Sunday, November 22 – Fiber & Wearable Art
Weinstein Properties Education Wing Community Art Project – YouTube Premiere – 1

 

p.m.

 
I'm going to grab my teenagers to create a work of art using bold and colorful drawings. We're super competitive family, so let the fun begin…We'll frame the winner! 
Yuh Okano (Wearable Art) – Live on  Zoom (passcode: 3rvzCq – 4

 

p.m.

 

Alyssa Salomon (Wearable Art) – Live on Instagram

 – 6:30 p.m.

 
Monday, November 23 – Metal
Craft Cocktails with Brent Stubblefield – Live on 

VisArts

 Instagram – 5:30

 

p.m.

 
This will be a great way to finish my workday. I've always wanted a handcrafted knife. Metalsmith Brent Stubblefield will be giving virtual tour and inside look at his process. I'll have my favorite bourbon handy! 
Tuesday, November 24 – Mixed Media
Sallie Plumley (Wood) – Live on Instagram – 5

 

p.m.
How could I miss an opportunity to support my friend? As a little girl, Sallie spent countless hours in her granddaddy's woodshop and wood carving club. Her admiration and love for her grandfather's craftmanship turned into her passion for custom woodworking. She's a master woodworker. Grandaddy would be proud. 
Wednesday, November 25 – Wood
What else "wood" you rather do? I'd rather take lunch early to watch this: 
Wood Demo with Sallie Plumley – 

O

n 

VisArts

 Instagram – 11

 

a.m.

 
Thursday, November 26
Thanksgiving: Family, Food
 +
 the Arts
Click here to shop the artist by name or here by 

category

 
You'll be bombarded by "Black Friday" ads all day. Smart and kind people shop small and support local. 

VisArts

 has made that easy to do both. 

 
Friday, November 27 – Ceramics
Let's get fired up!
 Third

 Annual 

VisArts

 Clay Olympics – YouTube Premier

e

 – 1

 p.m.

 
Football will be on, but I'll be watching four potters compete to build various vessels in a series of wheel throwing challenges...Can't wait to see which potter will be crowned the winner! 
Saturday, November 28 – Furniture
Furniture Demo with 

Alicia 

Dietz – 

O

n 

VisArts

 Instagram – 11

 

a.m.

 

Emily Kuchenbecker (Glass) – Live on Instagram – 10:30

 

a.m.

 
Emily creates art out of glass inspired by nature. You can create a project inspired by her art on Sunday, November 29. Plan ahead by reviewing the project instructions available at visarts.org.  
Sunday, November 29 – Glass
Craft Cocktails with Erin and Grant 

Garmezy

 – Live on 

VisArts

 Instagram – 5:

0

0

 p.m.

 
You don't want to miss this magic show! Grant is beyond amazing. His glass sculptures are works of art with fine, intricate details. Get a tour of their studio located in Varina, VA and a glassblowing demo. I will be watching and justifying my glass antlers purchase with my hubby! 
Lilian Asterfield – Live on Instagram – 10:30

 

a.m.

 
I've been a fan of Lilian Asterfield for several years. Her neckwear made from silk ties are showstoppers. One must be ready for compliments while wearing her pieces. I stay ready! 
As you'll see, this year's virtual event has something for everyone. At VisArts, it's our hope that you'll find joy and awesome craft finds despite the necessary change to a virtual show versus an in-person event. Many of the artists participating in Craft + Design Online will also be exhibiting at Craft + Design in person in June 2021. We look forward to seeing you there next year! 
Cheers,   
Chris Hairston-White
Chair
2020 Craft + Design Committee 
 P.S. Don't be shy! Post pictures of you at C+D online, your purchases and/or art projects on social media. Don't forget to tag VisArts (@visartsrva) and use #craftanddesignonline2020.