Meet Theodore Taylor III, the Award-Winning, Richmond-based Illustrator Behind the Cover of VisArts' 2022 Winter Catalog.  
The Visual Arts Center of Richmond's winter class registration opens on Wednesday, October 27 and Richmond-based illustrator Theodore Taylor III is behind the user-interface-inspired illustrations for the cover of the 2022 Winter catalog.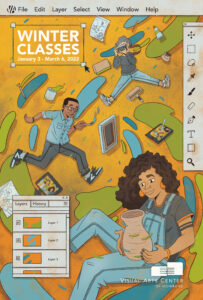 Taylor draws from a wide range of interests for his work: comics, video games, street art and music. But his inspiration for the VisArts winter catalog concept draws from his work as a front-end web developer. "I wanted to do something inspired by digital art because that's what I know best, and the web developer in me enjoys drawing user interfaces," says Taylor.   
Taylor isn't only an accomplished web developer, he also has a career as an accomplished children's book illustrator. In 2014 he received the Coretta Scott King John Steptoe New Talent Award for his work in When the Beat Was Born: DJ Kool Here and the Creation of Hip Hop. He also illustrated When The Beat Was Born, Woke: A Young Poet's Guide to Justice and C Is For Country. "I'm proud of all of my published work, seeing my work on shelves in major retailers is still surreal. And having my son be able to tell his friends at school that his dad drew the book they're reading makes me feel really good." Taylor just finished up another book called Off the Wall which is inspired by his love of graffiti. 
Taylor describes his creative process as one that's both analog and digital. He sketches in his sketchbook and develops his best ideas digitally using Procreate on his iPad. As VisArts' newest Illustrator in Residence, Taylor will share more about his digital illustrative process in the beginners workshop he'll be teaching on January 29th at VisArts called Illustrating in Procreate.