VisArts Raises Over $16,000 During 'Of Mud & Blood' Exhibition Silent Auction
The Visual Arts Center of Richmond raised over $16,000 at the conclusion of the "Of Mud & Blood" exhibition silent auction. The artwork at the exhibition were collaborative works between Central Virginia-based ceramicists and tattoo artists. "Of Mud & Blood" explored these centuries-old crafts through various vessels, sculptures and other forms. The 'Unlucky Strike Vase' created by clay artists Jeff Vick and painted by tattoo artist Timothy Hoyer went for the highest bid at over $1000.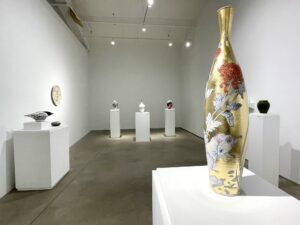 The auction ended on December 20, 2021, but the pieces will be on view in the True F. Luck Gallery at VisArts until January 9, 2022, when the exhibition closes. All proceeds are to be split between two local Richmond organizations, MAD RVA and Health Brigade, as well as community partnership programs at VisArts.
"This exhibition put the collaborative nature of Richmond's creative communities on view, and the fact that the artists wanted to share the proceeds with local non-profit organizations was a lovely outcome to an equally lovely exhibition," says VisArts executive director, Stefanie Fedor, "we're grateful to the artists who donated their time and their artistry to such a worthy cause."
CERAMIC ARTISTS
David Camden, Merenda Cecelia, Missy Cochrane, Joanna Gragnani, Karen Hull, Dan Kaczka, Paul Klassett, Bernadette Larimer, Claire McCarty, Philip Mills, Christine Orr, Kathleen O'Connor, Al Pellenberg, Angelique Scott, Maria Stone, Kourtenay Plummer, Jeff Vick, Holly Zajur
TATTOO ARTISTS
Josh Autrey, Mike Baker, Nick Barnett, Amy Black, David Boisineau, Jason Brown, Brian Bruno, Nick Bryant, Andrew Conner, James Cumberland, Katie Davis, Sterling Frost, Timothy Hoyer, Marina Inoue, Willie Kirby, Kpham, Adam Marton, Nate Moretti, Jelena Nikolic, Ian Ó Nualláin, Fred Pinckard, Chris Porter, Daryl Rodriguez, Nicholas Ruffilo, Miky Scheer, Holley Setzer, John Setzer, Rosemary Shackelford, Tim Skirven, Sophie Stell, Beth Stratton, Tannis, James Travis