VisArts Unveils "Granby House" During CRAFT + DESIGN Weekend: Its Most Recent Property Acquisition Will Serve as Resident-Artist Housing.
November 22, 2021 (Richmond, VA), The Visual Arts Center of Richmond (VisArts) unveiled its most recent acquisition, a residential property at 1 Granby Street, during its 57th Annual Craft + Design weekend. Craft + Design, which took place online this year, is a three-day signature event that celebrates local, regional, and national craft arts.
"Granby House," as the space is affectionately called by VisArts staff and teachers, is a two-level home next door to the arts center. It was decorated with handcrafted furniture and decorative art pieces donated by local Craft + Design artists and staged as a design house for the weekend's festivities. Patrons and donors had the opportunity to preview the property, open-house-style, and obtain the pieces styled within the home via the event's online marketplace.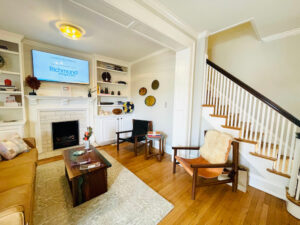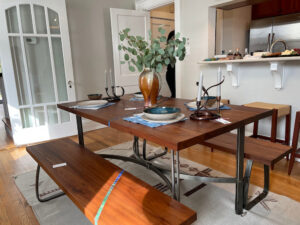 "We are excited to finally be able to share the news of our recent addition and extremely proud of how we were able to use the space to showcase the beauty and functionality of craft art," says Stefanie Fedor, executive director of VisArts. "This property will support VisArts service to artists and grow our residency programs by serving as an artist residence for visiting artists and resident artists in need of housing. We are grateful for the generous support we received from individual donors to purchase the home. Our burgeoning residency programs are an important part of our mission and afford artists the unique opportunity for direct involvement with the VisArts community, which reflects the cultural and economic diversity of the Richmond region."
VisArts is a 58-year-old community arts center focusing on arts education. Its mission is to celebrate and support the creative life of all people through artmaking, exhibitions, and community programs. VisArts reaches over 40,000 people per year through: over 1,000 classes for all ages and skill levels taught in 12 different media areas; a range of free-of-charge community partnerships serving more than 3,000 individuals annually; a tuition assistance fund that makes art accessible to all; studio access and residency opportunities for emerging and professional artists; community events promoting artists such as its signature event, Craft + Design; and professionally curated exhibitions featuring national and international artists. 
Operating from a 30,000-square foot facility with 17 public studio spaces and gallery space, VisArts is the largest non-university studio-arts program in Virginia, and the biggest and most publicly accessible arts space in Richmond. It is an essential collaborator in the larger regional arts community.