"Where the Pieces Fall," A Group Exhibition by VisArts Resident Artists Opens November 1
The Visual Arts Center of Richmond will be hosting an exhibition titled "Where the Pieces Fall." This exhibit is a culmination of works by 15 resident artists at VisArts. The public will have the opportunity to experience this exhibition from Nov. 1-7 at the Visual Arts Center of Richmond's True F. Luck Gallery. The opening reception is on November 4th from 6-8 pm.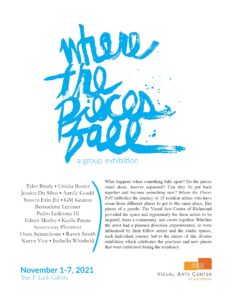 "Where the Pieces Fall" embodies the journey of 15 resident artists who have come from different places to get to the same place, like pieces of a puzzle. They worked with a wide variety of mediums, from photography, paintings, ceramics, textiles and so much more. There's been incredible growth from their time working together in the communal studio spaces at VisArts since the beginning of the difficult COVID-19 pandemic.
By providing the space and opportunity for these artists to be inspired, the VisArts residency program helped resident artists form a community and create alongside each other. Whether they had a planned direction, experimented with different mediums, or just soaked up the influences of their fellow artists and the studio spaces, each journey led to the pieces of this diverse exhibition celebrating the practices and new works made during their time at VisArts.