Resident Artists Amarise Carreras, Eric Rivera Barbeito and Sayaka Suzuki Showcase New Art in "Mira, Miru" Exhibition at VisArts.
(Richmond, VA) On Friday, April 22, the Visual Arts Center of Richmond (VisArts) hosted a closing reception for "Mira, Miru," an exhibition of works by VisArts' annual resident artists: Amarise Carreras, Eric Rivera Barbeito and Sayaka Suzuki.  
Carreras, Barbeito and Suzuki are the visual artists in VisArts 2021-2022 Annual Resident Artist Program. Their exhibition explored cultural identities and histories from both personal and globally focused perspectives. The exhibition was co-curated by consulting curator Caroline Wright and featured mixed-media installations highlighting their individual explorations and recent use of new materials within VisArts' studios.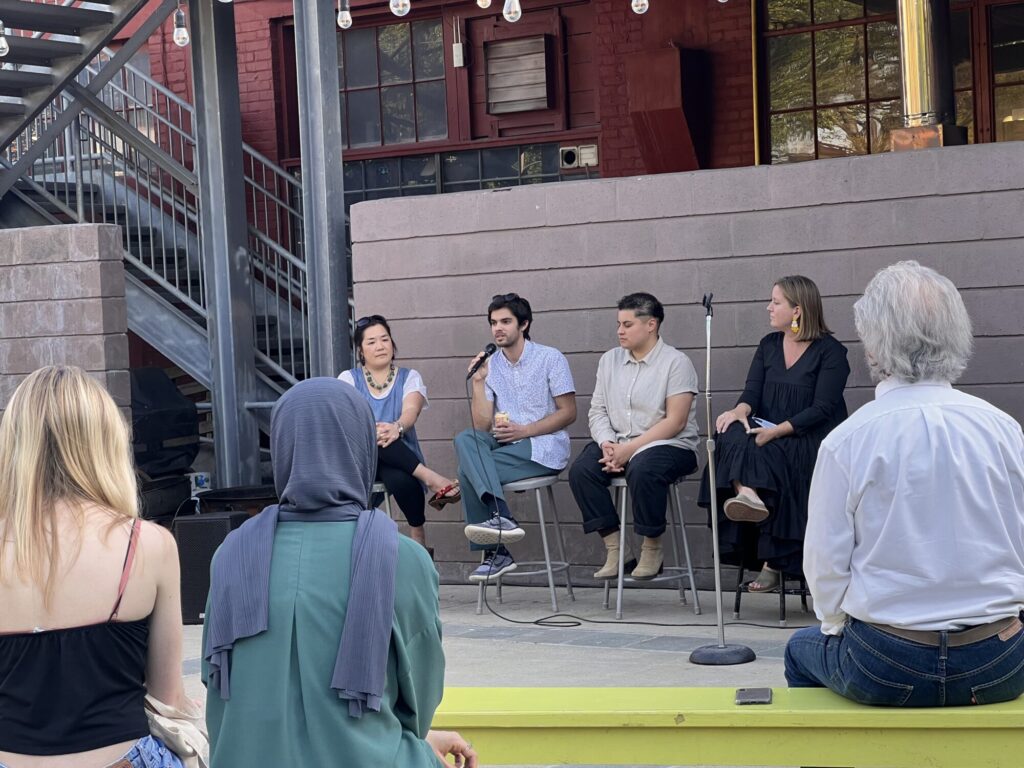 "The words "mira" and "miru" translate "to look" in Spanish and Japanese," says Caroline Wright who assisted as consulting curator for the exhibition, "We had a group discussion about the exhibition title, and we gathered words and phrases relevant to each artist's individual practice. Eric suggested these two words, as his and Amarise's first language is Spanish and Sayaka's is Japanese. The rhythm and the visual and audible connections felt just right because the works in "Mira, Miru" are meditative and encourage historical reflection." 
In speaking about the work made over the last 6 months, Sayaka Suzuki shared that play and experimentation were major themes. "Play is really important to my studio practice and my residency at VisArts has given me the opportunity to do that with new mediums and wait for exciting things to happen. I never go into the studio expecting a masterpiece because that's when you do bad work."  
Suzuki incorporated immersive experiences with her work that included periodic Japanese tea tastings and meditations within the True F. Luck Gallery at VisArts. Barbeito's work draws on labor and the eco-political relationship between his home country, Puerto Rico, and the United States. His works in the exhibition were also experiential and invited guests to draw on a framed canvas with charcoal molded in the shape of a hand. Carreras's works used photography and found objects to highlight family, heritage, culture, and gender. The artists will continue to make work at VisArts until the end of the year.  
Amarise Carreras: Amarise Carreras received their BFA in Photography and Film from Virginia Commonwealth University in 2018. Carreras has been shown in galleries such as Candela Gallery, Transmitter, and WallWorks New York, as well as currently being featured in Aperture Magazine and Nueva Luz.  
Eric Rivera Barbeito: Eric Rivera Barbeito received his BFA from the Maryland Institute College of Art in 2017 and relocated to Richmond, VA, where he currently lives and works. He was an Artist-in-Residence at the Vermont Studio Center and ACRE in Steuben, Wisconsin. His work has been included in group exhibitions at Towson University, School 33, Terrault Contemporary and Tiger Strikes Asteroid Philadelphia.  
Sayaka Suzuki: Sayaka Suzuki earned her BFA from Tulane University and her MFA from Virginia Commonwealth University. Her works have been exhibited nationally and internationally, including solo exhibitions at the Virginia Museum of Contemporary Art and the Pensacola Museum of Art, as well as group shows at the Washington Project for the Arts-Corcoran, New Mexico Museum of Art, Czong Institute for Contemporary Art in Korea, and Museo Crocetti in Italy. Suzuki is a recent recipient of the Virginia Museum of Fine Arts Fellowship and was a recent fellow at the Vermont Studio Center. She currently teaches at Virginia Commonwealth University and leads workshops around the country.  
The Visual Arts Center of Richmond's Annual Artist Residency is an 11-month program that invites three emerging visual artists and one creative writer to use resources available at VisArts to develop their creative practices, explore various media and make new work. The program is funded in part by a grant from the National Endowment for the arts, the Windgate Foundation, CultureWorks, the Virginia Commission for the Arts and the Allen and Margot Blank Foundation.  
About the Curator: Caroline Wright earned an MA in modern and contemporary art from the University of Virginia and a BA in studio art, art history and journalism from Washington and Lee University. Caroline has worked at the Visual Arts Center of Richmond, the National Gallery of Art and Monticello and served as a Governor-appointed member of the North Carolina State Art Society Board of the North Carolina Museum of Art.  In 2017 Caroline founded Caroline Wright Art Advisory. Her foundation in curatorial practice and education, combined with her career-long experience and joy of working with artists and arts professionals, informs and inspires her advisory services 
About the Visual Arts Center of Richmond: The Visual Arts Center of Richmond (VisArts) has helped adults and children explore their creativity and make art since 1963. Each year, the organization touches the lives of nearly 45,000 people through its classes, exhibitions, community programs, camps, workshops and special events. Each year, VisArts offers more than 1,000 visual and creative arts classes in clay, wood, fiber, painting, photography, printmaking, glass, metal, drawing, writing, decorative arts and other visual media. More than 200 instructors teach for the organization. The Visual Arts Center of Richmond is generously supported by CultureWorks, the National Endowment for the Arts and the Virginia Commission for the Arts.