VisArts to Honor Patty Wilkerson with Distinguished Service Award at 36th Annual Collectors' Night, Presented by Dominion Energy
The Visual Arts Center of Richmond will honor Patty Wilkerson with the organization's Distinguished Service Award on Saturday, May 14, 2022 at VisArts' 36th Annual Collectors' Night, Presented by Dominion Energy. 
VisArts' Distinguished Service Award honors a longtime friend of the organization who has demonstrated a sustained and extraordinary commitment to the center. This year's award is sponsored by Kathryn Gray and Alex Nyerges. VisArts has presented the Distinguished Service Award since 1987 and past recipients include Bill and Pam Royall, Brian Jackson, Carter Reid, Priscilla Burbank, Rhona Arenstein and Kathryn Gray, among many others.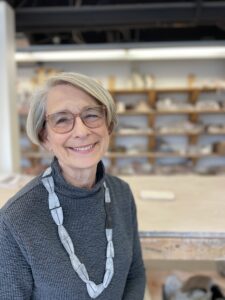 Over the last three decades, Patty Wilkerson has served in various capacities for a number of local organizations, including the Visual Arts Center of Richmond. As a long-time member of the VisArts governing board, she has served on various board committees, presided over major event committees such as Craft + Design, and served as volunteer interim executive director of VisArts for nine months between 2014 and 2015.  
During her tenure as interim executive director, Patty helped steer the organization through an incredibly challenging time but graciously credits its successful pivot to the strength of VisArts' devoted community. As Patty explains, "In my mind the mission is what saved the organization because we had enough loyal donors, capable staff and dedicated instructors to make sure the organization thrives." At this time Patty assisted with the search and subsequent hiring of VisArts current executive director, Stefanie Fedor.  
Patty moved to Richmond from New Jersey in 1973 to attend Virginia Commonwealth University. After graduating from VCU, she began her 30-year career at Dominion Energy. Through her work at Dominion, Patty came to know and become involved with VisArts. Patty's natural spirit for volunteering emphasized by Dominion Energy's drive for community service led her to attend her first Collectors' Night event in the 1990s.Patty describes, "The event brought together local artists, native Richmonders, and everyone in between…I remember thinking any organization that can bring together the whole community around art and make it feel welcoming and accessible is an organization I want to be a part of, and I have been involved with the organization ever since."  
Since making Richmond her home, Patty has been a staunch supporter of the arts and generously devotes her time and resources to other wonderful organizations such as UnitedWay Services of Greater Richmond, Circle Center Adult Day Services, the VCU Foundation, Family Lifeline, RPS and local Parochial Schools, and the Commonwealth Girl Scout Council. 
Tables and individual tickets to Collectors' Night, Presented by Dominion Energy are sold out, donations can be made in honor of Patty Wilkerson through the same ticketing platform. This year's theme, "Art More Than Ever," highlights VisArts' central role in nurturing and sustaining Richmond's arts community. Jenny Bassett is the 2022 Collectors' Night committee chair and Diego Sanchez is the committee co-chair. All proceeds from Collectors' Night benefit VisArts.