VisArts Welcomes Guests to the Opening of Common Thread Exhibition
The Visual Arts Center of Richmond welcomed guests, family, and friends for the opening of Common Thread, an exhibition featuring works from its Fall/Winter Studio Access residents.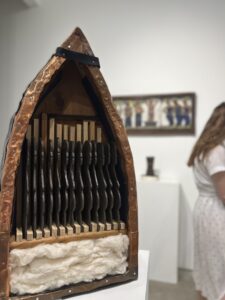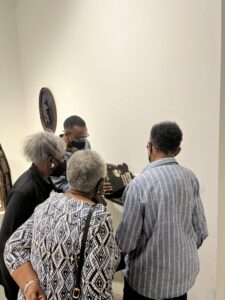 The exhibition explored the invisible thread of creativity that wove their works together. The exhibiting residents had the opportunity to speak about their work during the artist talk, mostly speaking about the communal experience of sharing studio space and ideas with fellow artists at VisArts.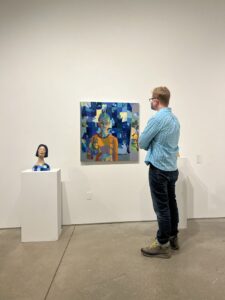 Rebecca Shkeyrov is one of the artists whose work explores surreal narratives, self-identity, and personal relationships. "I feel so lucky to have gotten the residency because I had just moved to Richmond and I was starting to figure out how I was going to make art, and where to get materials because it was a new city. I was learning to become an independent artist for the very first time too. I mostly worked in clay, I had never done ceramics before, and I didn't get a chance to do it in college. so I was very happy about that. It's really nice that the residency encourages us to learn new things, and explore without the pressure. I felt like I could learn at my own pace. I felt like I gained new skills in this new medium that I never worked in before. Now I feel like I am a part of a really lovely community with a lot of talented and kind people. I feel so lucky, I'm so glad that I got into the residency!"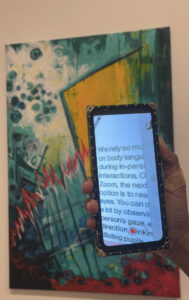 Beth Younger's piece in the exhibition was striking in message and form and used augmented reality technology to convey her observations during the pandemic. But what she describes as the most meaningful part of the residency was the opportunity to not just engage with the arts while she was here but also learn how to share her work as an artist. "Being here has truly been a blessing. Two things that stand out to me, one was that I was able to take a fabric dying class with Julia (Fiber Studio Teacher). What also touched me was receiving an email to be invited to participate in the selection process for the Scholastics Award Program. I can't thank this community enough [tears] It really taught me a lot because now I am able to show my work and know how to document and share it with the world. And this is a place that fosters a warm welcoming community–I just love it!"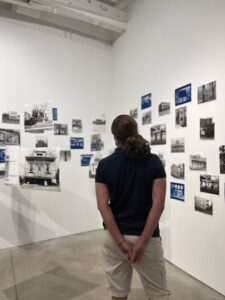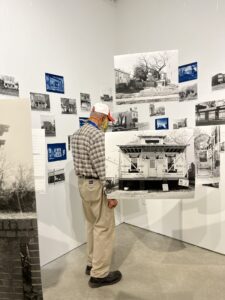 Deena Ramadan's photography submitted for "Common Thread" shows the ongoing changes happening rapidly in the Church Hill neighborhood of Richmond City. Deena is an interdisciplinary artist, scholar, and activist. Her mediums include digital and analog photography, videography, and graphic design. "I think that this project challenged me in so many ways. I definitely had to push myself through a lot of aspects of it, including getting out and taking photos in all types of weather. Also getting in the darkroom and putting in the hours for that. I think there was a lot of doubt about this project at first, but it's so amazing to see it done and completed because it has been something I've been working on since October! It was helpful to me to walk around my neighborhood and translate the gentrification that I see going on. It was a very meaningful project for me."
Common Thread is on view in the True F. Luck Gallery at the Visual Arts Center of Richmond until June 5, 2022.