Judging Begins at VisArts for 2023 Scholastic Art & Writing Awards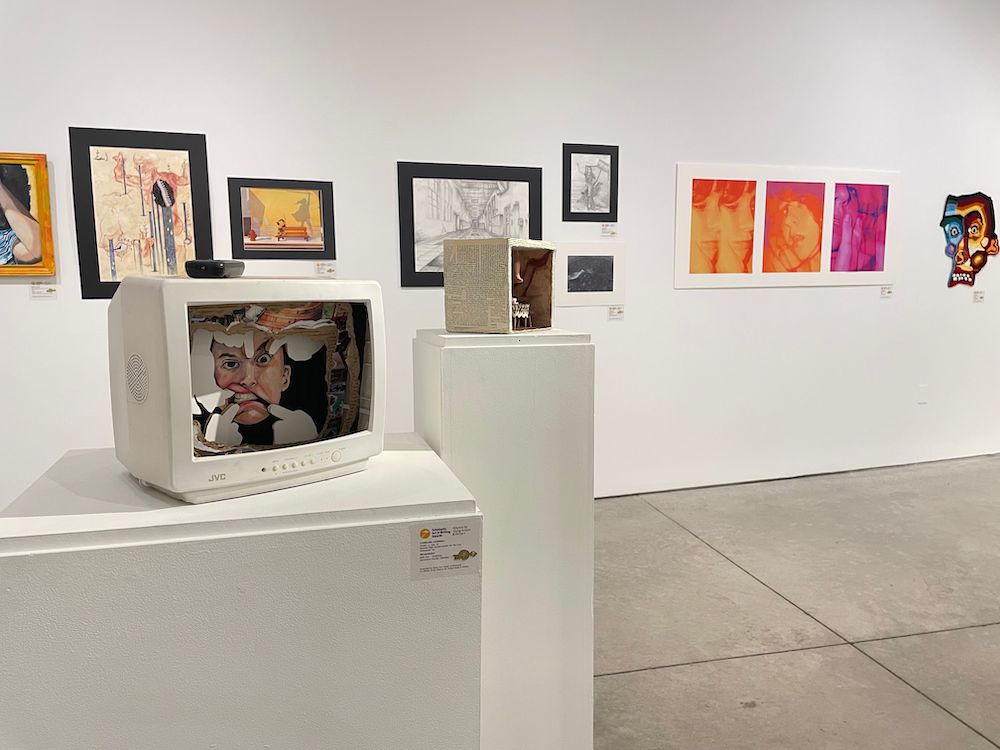 Over 2,500 young artists and budding writers from the Richmond Region submitted their artwork to be considered for the 2023 Scholastic Art and Writing Award. Adjudication has begun at the Visual Arts Center of Richmond, the local partner site for the prestigious teen art award which recognizes promising young creatives in 7th through 12th grade. 
For many of these young artists, the Scholastic Art and Writing Award is their first opportunity to share their work professionally and be recognized for it. Works awarded Gold Key portfolios at VisArts are automatically entered into the national competition to win one of ten $10,000 scholarship prizes. These national gold medal awards are part of a star-studded ceremony in New York City which in the past has included special guests like Oprah Winfrey, Alec Baldwin, Amy Schumer, and Sarah Jessica Parker.   
In 2022, Amina Adeyola, a 12th grader from Appomattox Regional High school, won a GoldKey Portfolio award for poetry and became the first writer to receive a national Gold Medal Award. Adeyola won a $10,000 scholarship prize for, "For My Search for Home," a poem that explores various aspects of identity. In addition to the cash prize, Adeyola was excited about the impact the recognition had had on her confidence and trajectory as a writer. 
"I felt very blessed to learn that I was awarded the gold medal portfolio nomination as well as the national award. I was also very surprised because I was not sure if my work was good enough. I'm very grateful that they saw something within my work and I'm very excited to continue my career," says Adeyola. "This award has shown me that I want to continue to work within my art. I'm ready to work towards pushing the boundaries within poetry and hopefully film as well. I want to join communities like the one I gained through the scholastic awards as I go through my writing career. All I can do is continue learning and practicing my art and I'm very excited to see where it takes me."   
Adeyola credits family and high school writing teachers Gail Giewont and Dr. Cindy Cunningham as being instrumental in providing the foundation and the safe space to become a great writer. "My writing teacher Dr. Cindy Cunningham has been one of the people who has inspired me as a poet and writer. She made me believe that I could be an artist and I owe a lot to her. She is one of my favorite people and I can't wait until I can send her my first poetry book."  
The Visual Arts Center of Richmond has been the regional partner site for the Scholastics Art and Writing Award in the Richmond region for the last 5 years and for each of those five years, a student from the Richmond region has won a national award. The arts organization which celebrates its 60th anniversary this year brings together a stellar group of judges from its extensive network of Richmond's top artists, arts educators, and arts administrators. Past judges have included celebrated artists like Aimee Joyeux, Dennis Winston, Frankie Slaughter; muralist Hamilton Glass, and poets Kristina Hamlett and Roscoe Burnems.  
The Visual Arts Center of Richmond will host an exhibition of over 400 top regional works of art, including Goldkey, Silverkey, Honorable mention works and a special showcase of Richmond City Public School winners. The 2023 Scholastic Art & Writing exhibition will be held from February 3 – 20 in the True F. Luck Gallery at VisArts.