VisArts to Honor Aimee Joyaux with 2023 Distinguished Service Award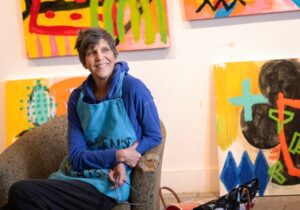 Richmond, VA (May 1, 2023) The Visual Arts Center of Richmond will honor multimedia artist Aimee Joyaux with the organization's Distinguished Service Award on Saturday, May 13, 2023, at VisArts' 37th Annual Collectors' Night, Presented by Dominion Energy. 
VisArts' Distinguished Service Award honors a longtime friend of the organization who has demonstrated a sustained and extraordinary commitment to the center. VisArts has presented the Distinguished Service Award since 1987 and past recipients include Bill and Pam Royall, Brian Jackson, Carter Reid, Priscilla Burbank, Rhona Arenstein, Kathryn Gray, and Patty Wilkerson among many others.
Aimee Joyaux has been involved at the Visual Arts Center of Richmond for over two decades, serving as the Director of Education, Interim Executive Director, a teacher and as a member of the Board of Directors.
Over the years, Joyaux has shared her love, knowledge and passion for art-making, especially letterpress printing and bookmaking processes with VisArts' community and helped elevate VisArts' letterpress studio and program to become the unique resource it is now for the Richmond community.
Prior to joining the VisArts Board of Directors in 2007, Joyaux was a frequent visitor to the True F. Luck Gallery and admits she was pulled in by the "enormous and infectious energy" in the building during VisArts' ArtVenture summer camp, where children as young as 5 years old make art alongside professional artists in VisArts' studios.
Joyaux's years as Director of Education and as Interim Executive Director were transformational for the organization, further establishing its reputation as a welcoming and supportive space for all types of arts learners and teaching artists.
"It gives me a great deal of satisfaction to see the young people I've hired and mentored rise to the occasion and become consummate professionals and leaders around Richmond and the Tri-Cities area," says Joyaux. "It's a real honor to receive this award for a lot of reasons, not least of which is that I have so many special people in my life because of VisArts. Being recognized by your peers is tremendous and I'm humbled by this level of attention."
Joyaux's legacy of mentorship and creative inspiration continues at VisArts as the organization leads the way in working to establish new programs, expanding its audience and maintaining a strong focus on community-focused arts programming. Aimee was a mentor to Jordan Brown, the center's current Interim Executive Director.
"Aimee is one of those special people that can create magic in the lives of the people she's with," says Brown, "We hope that this award shows her and the community just how much of an impact she's made with VisArts, from growing our programs and inspiring our staff, and being a pillar of support for the organization over the last 20 years. Personally, I feel honored to be involved in this process. Aimee is the reason I fell in love with VisArts and community art spaces and I wouldn't be the person I am today without her."
Aimee Joyaux currently serves on the Board of Studio Two Three and Milk River Arts. She served on the Partners in Art Governance Committee at the University of Richmond and several groups in Petersburg, including Rebuilding Together, Petersburg Area Art League, Southside Virginia Council for the Arts, and the Hope Center Food Pantry.
This year's theme, "60 Years of Making" celebrates VisArts' 60th anniversary and its central role in nurturing and sustaining Richmond's arts community. Diego Sanchez is the 2023 Collectors' Night Committee Chair and Celia Rafalko is the Committee Co-chair. All proceeds from Collectors' Night benefit VisArts outreach and community programs.
For additional information on Collectors' Night, please visit visarts.org/events/collectors-night/.