|
|
|
"The Burdens of History"
"The Burdens of History"
"The Burdens of History"
July 20-August 31, 2020
The 2020 NCECA Conference was cancelled due to COVID-19, but "The Burdens of History" is on view now in VisArts' True F. Luck Gallery.
VisArts is open by appointment only. We have an online scheduling system that allows you to easily make an appointment to stop by and see the show. Masks are required when entering our building!
Schedule a Time to See the Show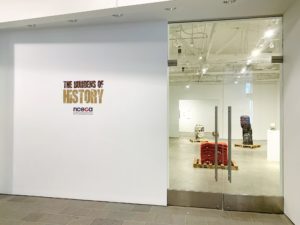 "The Burdens of History" seeks to broaden the narrative of ceramic art's evolution, featuring artists and artworks that both celebrate and critique the history of the field. Featuring works by artists who approach ceramics as pluralistic, the exhibition considers the many histories/herstories/theirstories of clay to make new touchstones for today. Their performances, videos, ephemera, and objects engage not only a material knowledge of clay but knowledge of its social history. Rooted in the past, but moving in new directions, these works and the artists who made them demonstrate the continued vitality of a multivalent field. 
Artists:
Jennifer Ling Datchuk is an artist born in Warren, Ohio and raised in Brooklyn, New York. Trained in ceramics, the artist works with porcelain and other materials often associated with traditional women's work, such as textiles and hair, to discuss fragility, beauty, femininity, intersectionality, identity and personal history.
She holds an MFA in Artisanry from the University of Massachusetts Dartmouth and a BFA in Crafts from Kent State University. She has received grants from the Artist Foundation of San Antonio, travel grant from Artpace, and the Linda Lighton International Artist Exchange Program to research the global migrations of porcelain and blue and white pattern decoration. She was awarded a residency through the Blue Star Contemporary Art Museum to conduct her studio practice at the Künstlerhaus Bethanien in Berlin, Germany and has participated in residencies at the Pottery Workshop in Jingdezhen, China, Vermont Studio Center, European Ceramic Work Center in the Netherlands and Artpace in San Antonio, Texas.  In 2017, she received the Emerging Voices award from the American Craft Council. She is Assistant Professor of Ceramics at Texas State University in San Marcos, Texas and lives and maintains a studio practice in San Antonio, Texas.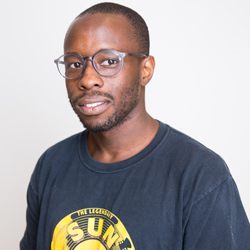 Woody De Othello creates and mutates everyday recognizable objects as a way to address broad audiences. He depicts these objects in various psychological and emotional states to express ideas, often done so with a tone of humor. These objects, such as doorknobs, AC vents, lights and TV sets, are rendered in an uncanny fashion with a sense of play, emotional intuition, and surrealism that provokes viewers to reimagine themselves and the way they view the world around them. Othello uses a hand-building technique called "slab construction." Building the sculptures up about six to eight inches at a time, he pushes the forms to a point where they near collapse. Working the clay to a point of precariousness adds to their psychological weight and creates a sense of movement and individual emotion. Othello's work interrogates the tension between animate and inanimate, energy and exhaustion, hospitality and hostility.
Woody De Othello (b. 1991 Miami, FL) completed his MFA at the California College of Arts in San Francisco in 2017. He received his BFA from Florida Atlantic University with a concentration in Ceramics. Othello has exhibited widely in group exhibitions, including FRONT International: Cleveland Triennial (2018) and the 33rd Ljubljana Biennial in Slovenia (2019). Othello has worked on two large-scale installation projects. In 2018, his work was commissioned by the San Francisco Arts Commission to be on permanent view at the San Francisco International Terminal. In December 2019, he completed a large scale bronze, titled Cool Composition, for Art Basel Miami Beach. Also in 2019, he opened Living Room, his first solo museum show, at the San Jose Museum of Art. He is represented by KARMA in New York and Jessica Silverman Gallery in San Francisco. Othello lives and works in Oakland, CA.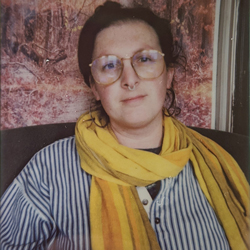 Nicki Green is a transdisciplinary artist working primarily in clay. Originally from New England, she completed her BFA in sculpture from the San Francisco Art Institute in 2009 and her MFA in Art Practice from UC Berkeley in 2018. Her sculptures, ritual objects and various flat works explore topics of history preservation, conceptual ornamentation and aesthetics of otherness. Green has exhibited her work internationally, notably at the New Museum, New York; The Contemporary Jewish Museum, San Francisco; Rockelmann & Partner Gallery, Berlin, Germany. She has contributed texts to numerous publications including Duke University Press' Transgender Studies Quarterly and Fermenting Feminism, Copenhagen. In 2019, Green was a finalist for the SFMOMA SECA Award and awarded an Arts/Industry Residency from the John Michael Kohler Art Center, among other awards. Green lives and works in the San Francisco Bay Area.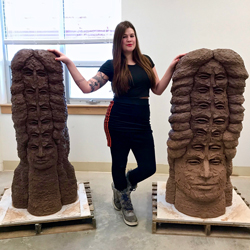 Raven Halfmoon (Caddo Nation) is from Norman, Oklahoma. She attended the University of Arkansas where she earned a double Bachelors Degree in ceramics/painting and cultural anthropology. Her work has been featured in multiple exhibitions throughout the U.S. as well as internationally. Raven is currently based in Helena, MT where she is a artist in residence at the Archie Bray Foundation for Ceramic Arts. She is represented by Gallery FRITZ in Santa Fe, NM.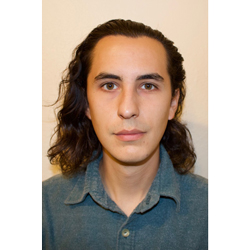 Issac Logsdon is a mestizo artist, writer, cook, and adobero living in Northern New Mexico. In addition to a studio practice, he restores historic adobe structures throughout the greater Southwest using traditional earthen building practices and gardens along the Santa Fe River, just a couple of blocks from where his great-grandmother's garden once flourished.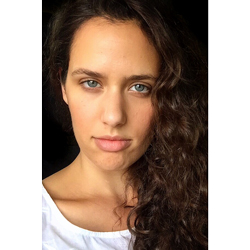 Elizabeth M. Webb is an artist and filmmaker from Charlottesville, VA. Her work is invested in issues surrounding race and identity, often using the lens of her own family history of migration and racial passing to explore larger, systemic constructs. She has screened and exhibited in the U.S., United Kingdom, Canada, Japan, Ecuador, Singapore, Switzerland, Mexico, Austria and Germany and was a recipient of the inaugural Allan Sekula Social Documentary Award in 2014. Elizabeth holds a dual MFA in Film/Video and Photography/Media from California Institute of the Arts and is an alumna of the Whitney Independent Study Program in Studio Art, Skowhegan School of Painting and Sculpture, and the Core Program at the Museum of Fine Arts Houston.