Rachel Schmidt
September 8 – October 22, 2023
Opening reception on Friday, September 8 from 5:30-7:30 p.m.                                                       Artist talk begins at 5:30 p.m.  
The Visual Arts Center of Richmond presents an exhibition of work by Washington, DC-based artist Rachel Schmidt and curated by Jayme McLellan, titled Scavenger Deities, in the True F. Luck Gallery. 
Scavenger Deities is a multi-media exhibition repurposing museum waste and discarded materials into intricate artworks about nature. In response to shared and personal trauma from a global pandemic, Schmidt leaned into her creative practice to transform waste into complex, layered works of sacred patterns and animal totems; transforming what might be discarded into intentional, invaluable works of transcendence and reflection. The galleries–divided into thematic spaces of loss, healing, and the possibilities of the future–examine ways to heal and adapt through lenses of animal protagonists whose natural abilities make them purveyors of wisdom and magic. 
Rachel Schmidt is an installation artist based in Washington, DC. She received her MFA from the Maryland Institute College of Art in Baltimore, MD. Rachel has worked as an artist-in-residence at the Arlington Arts Center, Taipei Artist Village, Vermont Studio Center, Taller Portobelo Norte in Panama, and Sabhal Mor Ostaig on the Isle of Skye, Scotland. She has exhibited internationally and throughout the U.S. including The Smithsonian Arts and Industries Building in Washington, DC, Spring Break Art Fair in New York, and GAIT LA project space in Los Angeles, CA. Rachel has also been notably reviewed in Sculpture Magazine, The Washington Post, ArtNews, Hyperallergic, and numerous other publications.  
Front image: Rachel Schmidt, Shaman Portrait: Twins, 2021, Scrap wood, vinyl, aircraft cable, and ink.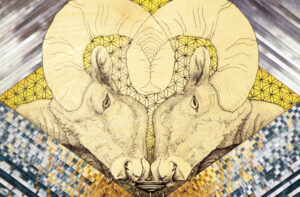 Free event from 1-4 p.m. on Saturday, September 9 at VisArts
In celebration of Scavenger Deities, an exhibition constructed entirely from waste, please join VisArts for its first Materials Swap event! For this solo exhibition, artist Rachel Schmidt extends her practice to harvest and reuse waste from cultural organizations to construct complex works of art in this expansive, complex, multi-media installation in the True F. Luck Gallery on view from September 8 through October 22, 2023. Scavenger Deities depicts and pays homage to animal spirits as purveyors of wisdom, and the magic of reuse to regenerate.
Join us in supporting all scavengers dependent upon us and each other as we move away from needless consumption and share what is bountiful among us. Let's give away and recirculate our piles to let others work their magical renewal on them. This is a chance to clear out the cluttered spaces of your studio and pass on materials to others.