|
|
Story Book Art Activity: "Dragons Love Tacos"
Story Book Art Activity: "Dragons Love Tacos"
Story Book art activity:
"Dragon's Love Tacos"

by Adam Rubin, Illustrated by Daniel Salmieri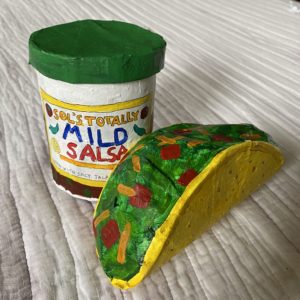 Ages: Ages: 9+ (This project can be adapted for younger kids with the help of an adult)
Description: Dragons love tacos, but not spicy ones! Dragons also love parties  (all types of parties), but especially parties with friends. In the book "Dragons Love Tacos," a group of dragons have a taco party with their friends, but accidentally eat spicy salsa! The dragons go nuts!
These days, we're having zoom parties with our friends. Maybe you can make yourself or your friend a papier-mâché version of their favorite food. Spend time thinking about food, the memories attached to food, and how special food can bring us happiness. 
Note: If you're giving this papier-mâché food to your dragon friends, be sure to hold the peppers!
View this post on Instagram
Conversation/Reflection Questions 
Journal about, think about or ask each other: 
What is your favorite food?

Why does it make you happy? 

 

How does it make you feel?

 

Why do you

 love the way it tastes? 

 

Does someone special make it for you? 

 

Did/do you eat it in a nice place? 

 

Is there a nice memory attached to it? 

 

Does someone you love have a favorite food? 

 

Interview them and ask them the above questions! 

 

Make them some

papier-mâché

food so they can relive these memories and good feelings forever! 
Supplies: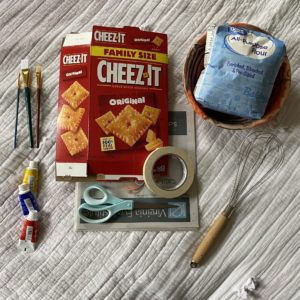 Newspaper
Thin cardboard (like a Cheez-It box)
Masking tape
Scissors
Flour OR Elmer's P

apier-mâché

Art Paste
Water
Whisk
Bowl for p

apier-mâché

paste
Paint + paintbrush
Pencil
Steps: I am making a taco and jar of "Totally Mild Salsa" from the story, but you can use these same methods to create any food you'd like!
Make a Taco:  
Cut a circle of about 6" diameter

 out of thin cardboard

(or make a giant taco by making it bigger, or miniature taco by making it smaller).

 

Gently fold circle into taco shape and ball up newspaper.

 

Place balled up newspaper in taco "shell" and tape the shell together.
Make a "Totally Mild Salsa" Jar: 
C

ut a long strip 

of thin cardboard in which the width of the strip is equal to the height of how tall you would like your salsa jar to be.

Form into a tube and tape.

Trace two circles from your tube in order to create the top and bottom of your jar.

Tape the two circles on to the top and bottom of your tube.
Note: You could also create a removable top if you want to get fancy! 
Make Papier-mâché Paste: 
If using 

E

lmer's

 paste, follow 

the 

directions on 

the 

box. 

If using flour and water, 

put

about 2/3 cup of flour in a bowl. 

Slowly whisk in COLD water until the paste is the consistency of cake batter. (about a half cup,

but this could vary, so add it slowly).

If you add too much water, just add more flour!

😊
Papier-mâché Directions: 
Tear newspaper into strips about the size of the palm of your hand.

Note: Newspaper has a "grain" so you can easily tear a long strip in one direction, then break it up into palm sized strips quickly.

Cover your work are

a

with newspaper. 

Dip one newspaper strip into the paste, make sure both sides are covered, then use your fingers like a squeegee in the shape of scissors to get any excess p

apier-mâché

 off. You want the strip to be coated/wet, but not sopping

.

 

Smooth your strip onto your object, making sure to smooth all the edges. Repeat with more strips

,

 and make sure to overlap the strips

.

 

Cover your entire surfaces

with p

apier-mâché

. Note: If it gets too wet, you can smooth off excess paste with your fingers and coat another strip with the excess paste. If you have smaller areas or more detailed areas to cover, use a smaller strip.

Place on a plastic bag to dry overnight. To speed up drying, use a fan. Flip your items when one side is dry, so that the underside can dry.
Paint your objects however you would like!  
You can 

sand

your dry p

apier-mâché

to make it more smooth.

You can paint it white first, if you really want all the colors to pop!