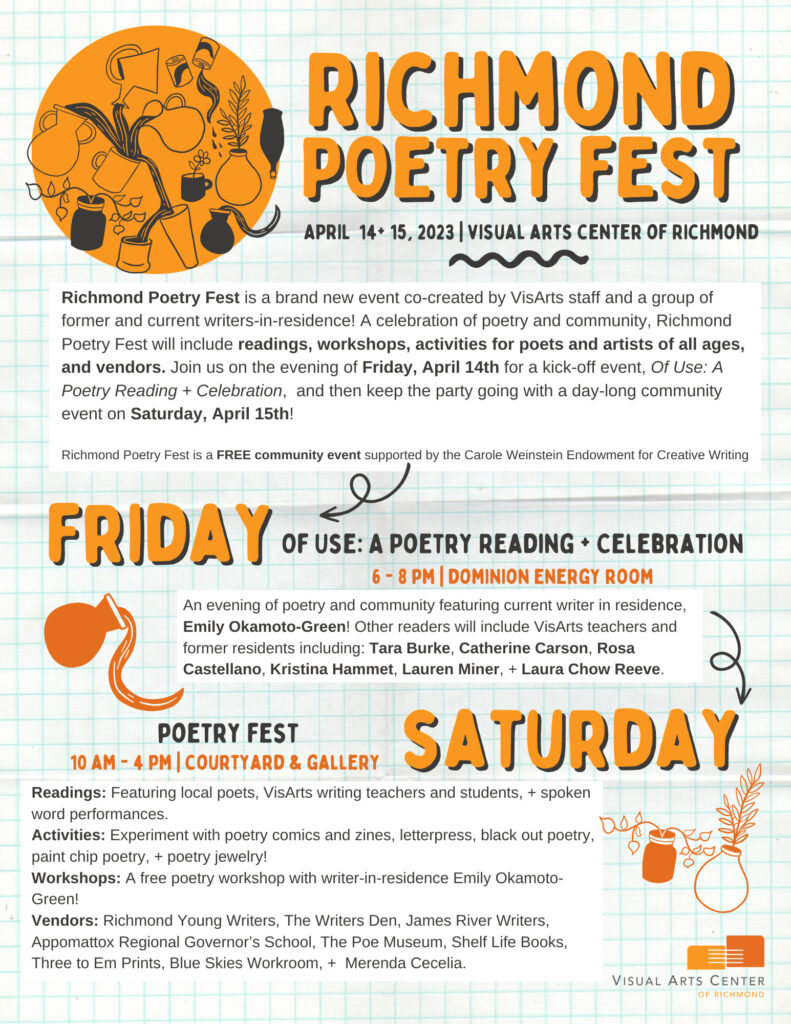 Richmond Poetry Fest is a brand new event co-created by VisArts staff and a group of former and current writers-in-residence! A celebration of poetry and community, Richmond Poetry Fest will include readings, workshops, activities for poets and artists of all ages, and vendors. Join us on the evening of Friday, April 14th for a kick-off event, Of Use: A Poetry Reading + Celebration,  and then keep the party going with a day-long community event on Saturday, April 15th! 
Richmond Poetry Fest is a FREE community event supported by the Carole Weinstein Endowment for Creative Writing. 
---
Friday Night Reading:
6 p.m. – 8 p.m.
Of Use: A Poetry Reading + Celebration | April 14, 2023| Dominion Energy Room
An evening of poetry and community featuring VisArts' current writer-in-residence, Emily Okamoto-Green!
Other readers will include VisArts teachers and former residents including Tara Burke, Catherine Carson, Rosa Castellano, Kristina Hammet, Lauren Miner and Laura Chow Reeve.
Saturday Festivities:
10 a.m. – 4 p.m.
Readings will take place in the gallery and feature local poets, VisArts writing teachers and students, and spoken word performances. We will kick off the day with a "favorite poem" reading where community members can come and share a favorite poem. The day will be filled with opportunities to connect and share work! Schedule to Come!
Workshops: A free poetry workshop with writer-in-residence Emily Okamoto-Green!
Activity Tables:

Looking for a creative way to celebrate National Poetry Month? Come on down to VisArts on Saturday, April 15th for Richmond Poetry Fest to experiment with poetry comics and zines, letterpress, black out poetry, paint chip poetry, and poetry jewelry! 

Tablers & Vendors:

We want to celebrate the vibrancy of our Richmond literary and arts community! Come meet folks from literary organizations such as Richmond Young Writers, The Writers Den, James River Writers, The Poe Museum, and Appomattox Regional Governor's School. Shop local with vendors such as Shelf Life Books, Three to Em Prints, Blue Skies Workroom, and Merenda Cecelia. 
Related Events/Classes:
Three Japanese Forms: Then, and Now, and Yet to Come: Learn about three traditional Japanese poetic forms in this FREE class by Emily Okamoto-Green. The haiku, the haibun, and the waka, we'll be exploring some examples in translation by Japanese poets from ancient times until today. After learning the tools of their trade and the trademarks of these forms, have a chance to write your own poem in form after one of the poets we read, or from a selection of experimental prompts that take these forms into the future.
Tiny Books, Big Charm: Small is beautiful! We'll make handfuls of tiny books in three styles (accordion, dragon, and wrap-around cover), each under three inches square. Not only are tiny books adorable, but working at this reduced scale allows us to work easily and quickly, and to think about how scale changes our experience. No prior bookbinding experience is required. This class is an ideal introduction to bookmaking for a newcomer and a fun exploration for an experienced bookbinder.
Contact VisArts' Writing Engagement Coordinator, Rosa Castellano, rcastellano@visarts.org for information on how to support, participate or get involved.
About the Writing Program at the Visual Arts Center of Richmond: The VisArts writing program offers classes as diverse and vibrant as our student population with coursework for writers at all stages, from beginner to advanced. Classes cover a range of creative writing topics from poetry to fiction to memoir to screenwriting and are offered in flexible formats from short weekend workshops to 8-week classes. Thanks to VisArts diverse programming and studios, we have the unique ability to combine visual arts and writing to offer classes that can be welcoming to both writers and visual artists, like Sewetry, Embroidered poems—a class combining poetry and embroidery.   We're proud of the long history of writing classes at VisArts and that we've grown to be a hub for writers wishing to learn and practice their craft.