Hours
VisArts is open daily from 9 a.m. to 9 p.m.
All guests and students arriving at VisArts after 6:30 PM must be buzzed in at the front entrance by VisArts front desk staff. All other doors and entrances lock after 6:30 PM.
We are closed on New Year's Day, Memorial Day, Independence Day, Labor Day, Thanksgiving Day and Christmas Day.
VisArts' True F. Luck Gallery hosts several exhibitions per year and is open to the public during VisArts' normal operating hours. Admission to the gallery is free.
Parking
VisArts is located in an urban area, but we have several available and accessible parking options. If traveling by GRTC bus, take route 5. Bike racks are available and are adjacent to both of VisArts' parking lots. Read the descriptions below to learn about availability and restrictions for each option.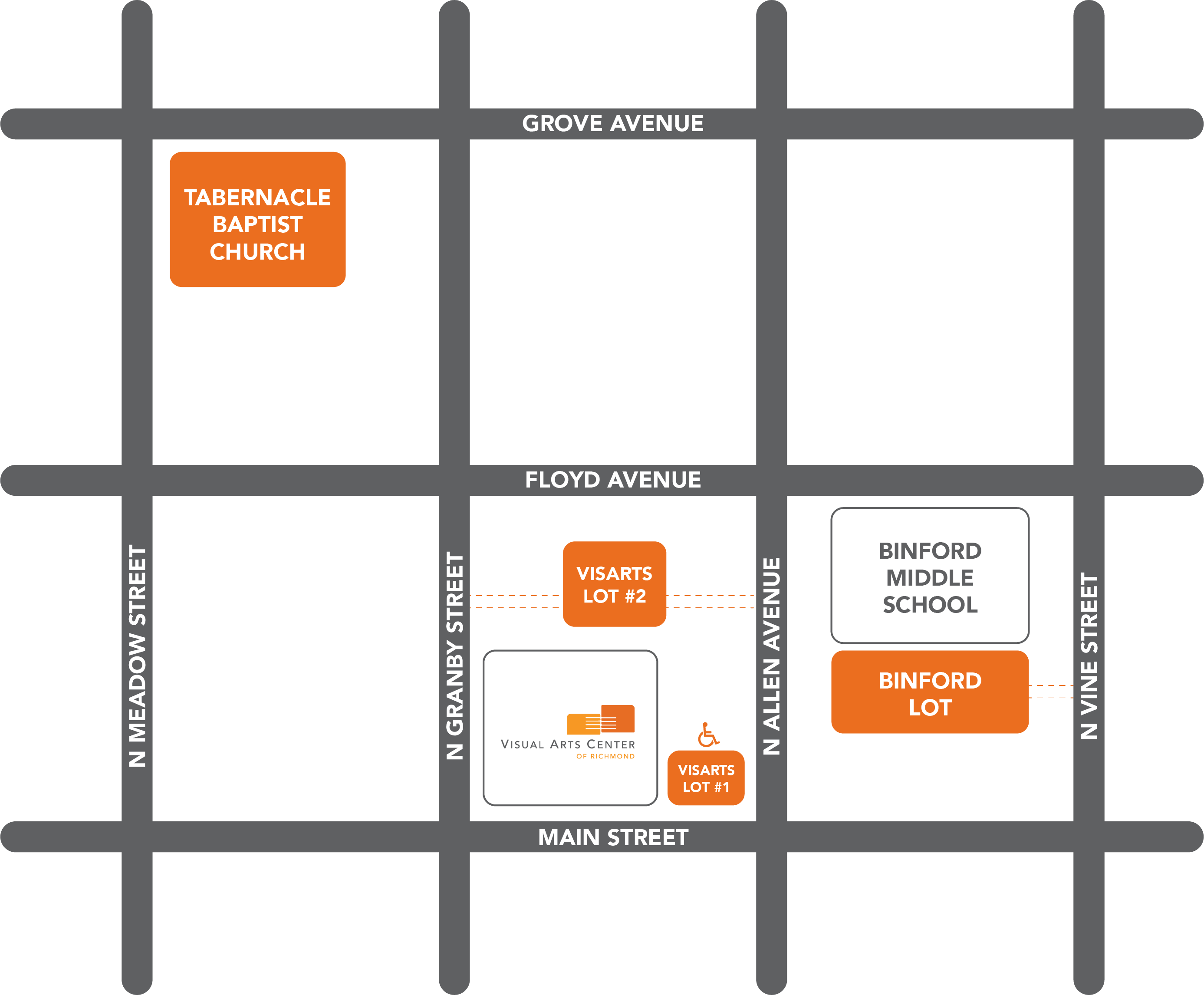 Park at VisArts
VisArts has two parking lots on its property. A small, asphalted parking lot is located at the corner of West Main Street and North Allen Avenue. This is where the center's handicapped parking spaces are located. A larger, gravel parking lot is located behind the building. You can access this parking lot via the alley that runs behind our building. The alley can be accessed via North Allen Avenue or North Granby Avenue. Please note that you may not leave your car in either parking lot overnight and that it is never okay to park in the alley. Cars that park in either of our lots or the alley illegally will be towed by J&A Towing, at owner's expense.
Park on the Street

Street parking is available on West Main Street and Granby Avenue. Please note that Allen Avenue is reserved for residential permit parking, and you will be ticketed if you park there, without a permit, between the hours of 8 a.m. and 9 p.m. on weekdays. Street parking south of West Main Street does not require a permit. You may also park west of Meadow Avenue without a permit.**Please note that West Main Street closes to street parking between 9 a.m. and 11 a.m. on Tuesdays.**

Park at Binford Middle School

Binford Middle School is a good partner and friend to the Visual Arts Center of Richmond. As such, VisArts students are permitted to park in Binford's rear parking lot from 5 to 10 p.m., Monday through Friday, and all day on Saturday and Sunday. There are exceptions to this policy; if Binford is hosting a special event, you will note signs indicating that the lot is closed to VisArts students and guests. Binford Middle School is located on the 1700 block of Floyd Avenue. You can access the school's rear parking lot via Vine Avenue.

Park at Tabernacle Baptist Church

Tabernacle Baptist Church owns a parking lot at 108 N. Meadow Avenue, next to High Point Barbershop and a two-block walk from VisArts. Rates are $3 for two hours; $4 for four hours; $5 for 12 hours; and $8 for 24 hours. Download the app Passport Parking to pay for parking from your phone. Please note this parking lot is closed on Sundays.