|
|
Past Featured Illustrators
Past Featured Illustrators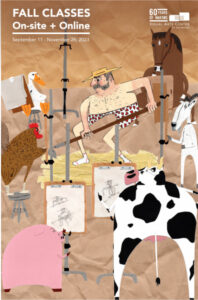 Adam Philip Goodman is a mixed-media illustrator currently living in Philadelphia, PA. Born and raised in Maryland, he earned his BFA in Communication Arts from Virginia Commonwealth University in the Fall of 2020 and still needs to have it framed. His work with cut-paper collage began in his third year at VCU and has since become an essential element in his design process and style. Adam loves to use humor in everything he does and hopes you get a laugh or two from his illustrations in the VisArts Fall 2023 class catalog.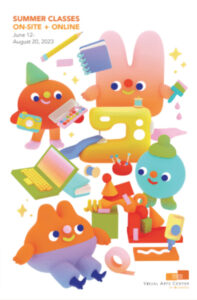 Tess Wladar is a 3D illustrator, animator, and fiber artist from Richmond, Virginia. She uses 3D modeling software to create adorable characters, objects, and environments full of color and whimsy. She also enjoys needle-felting little soft sculptures and accessories made out of wool. She has a BFA in Communication Arts from VCU and is pursuing a career in editorial and children's book illustration.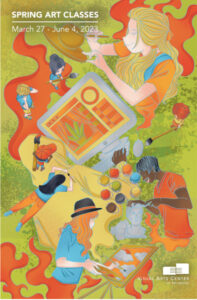 Feixue Mei is the Missouri-based illustrator whose anime-style designs grace the cover of VisArts' Spring 2023 Catalog. Mei's work and research explore internet culture, animation, comics, Surrealism, Chinese folk decorative art, and maximalism. She previously taught at VCUarts and now serves as an assistant professor of Graphic Design at Northwest Missouri State University. Read More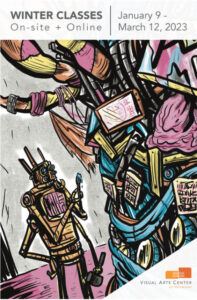 Oura Sananikone (he/him/his) has been making strange things for a very long time. His work includes (but is not limited to) painting, comics, zines, action figures, plush art, animation and music. He has exhibited all over Richmond and currently has work at Toy Lair, the shop he helped open in Carytown, Velocity Comics as well as his Threadless Artist Shop (misteroura.threadless.com). Oura graduated from Virginia Commonwealth University in 2000 and is your friend.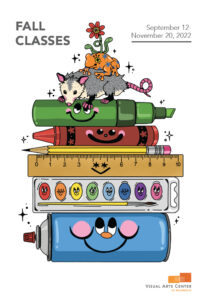 Erin Jhi is the South-Korean artist behind the VisArts Fall 2022 class catalog.  Her colorful, lighthearted depiction of an art-loving possum from Richmond adds whimsy to this season's catalog. Erin attended Virginia Commonwealth University to study Art and is influenced by traditional Korean culture, modern art, religion, and pop culture. One of her favorite pastimes while living in Richmond was visiting antique toy stores and drawing inspiration from vintage stickers, toys, hand-painted signs, and tattoo designs, "I'm drawn to anything bright and colorful!" she says.
Caryn Blum is an artist-educator behind the summer 2022 catalog. She earned her B.F.A. in Fine Arts Painting from The Rhode Island School of Design and her MA.ED from Seton Hall University. Caryn earned the Florence Lief award for Painting as an alumnus of RISD Painting.
Caryn has taught visual art to every age level from 3-year-olds to adults and has worked as a certified K-12 art teacher in many places throughout New Jersey, Philadelphia, and Wisconsin. Caryn's work has been exhibited throughout the country and around the world. She has continued to strive to make connections to places that respect the fine art of illustrators, the creativity of all age levels, and the work of artists who love teaching.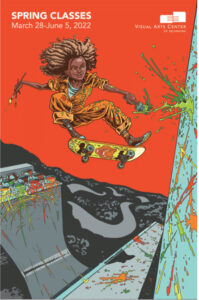 James Callahan is a writer and illustrator who has created thousands of drawings for comics, records, clothing, skateboards, and every other imaginable printable surface. A graduate from VCU's Communication Arts and Design program with a focus on Illustration in 2001, he has been making art ever since and brings decades of experience to every project he contributes to. His Spring 2022 catalog illustration was inspired by his desire to draw something that made making art look fun. He also wanted to draw something that made creating art feel accessible and inviting; encouraging people to experiment and try new things that are beyond their comfort zone.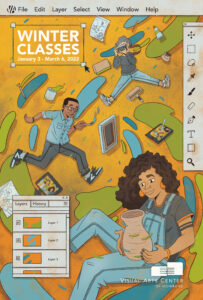 Richmond-based artist Theodore Taylor III is the creative behind the Winter 2022 catalog. He studied illustration at VCU and by day he works as a front-end web developer while also maintaining a career as a children's book illustrator in his free time. This catalog cover was inspired by his passion for drawing user interfaces, but his work is inspired by his love of music, comics, animation, video games, street art and more. He is also a self-proclaimed pizza connoisseur. In 2014 Taylor received the Coretta Scott King John Steptoe New Talent Award for his work in When The Beat Was Born: DJ Kool Here and the Creation of Hip Hop. In 2015 the book also won the Texas Bluebonnet Award.
Fond Collective is an ongoing creative collaboration between Grace Manno and Dashiell Kirk, the duo behind the Fall 2021 catalog.  Grace is a visual artist, illustrator, and designer with nearly a decade of experience in the graphic arts. Dashiell is a Richmond-based illustrator whose work ranges from comics and graphic novels to playing cards and posters. He has a BFA in Communication Arts from VCU. Their work for this catalog is centered on the diversity of the classrooms found at Visarts, and the joy of working in a variety of mediums.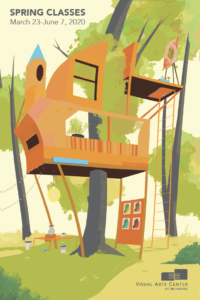 Illustrator Chris Nickels lives and works in Atlanta, Georgia. Originally from Athens, Georgia, Chris attended the Savannah College of Art and Design where he earned his BFA in illustration. He has worked with a number of publications on projects for both print and digital media but still enjoys taking up a personal project or two in his spare time.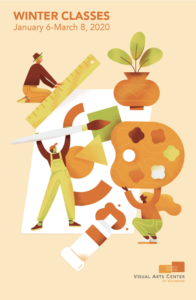 Katie Lazar has been in love with illustrating ever since she could pick up a pencil. By day, Katie is a designer for the Richmond design and development company, Mobelux, and by night she works on illustrations for freelance clients and personal projects. As a Virginia native, she loves spending time camping with her husband in their Volkswagen Vanagon, watching scary movies and searching for vintage furniture to fill their cabin house in Forest Hill.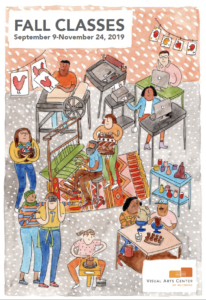 Born and raised in Virginia, Molly Anne Bishop graduated from the VCUarts Craft/Material Studies Program in 2012. Working mostly in clay, she draws inspiration from lizards, popular sports and travel. Bishop has been a resident artist at Red Lodge Clay Center in Montana, Lillstreet Art Center in Chicago, the Skopelos Foundation for the Arts in Greece, c.r.e.t.a. in Rome and the International Studio in Jingdezhen, China. She has work in the permanent collections of her mom and ex-boyfriend.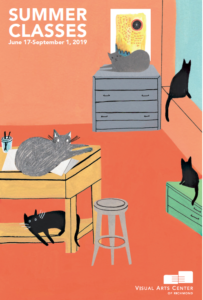 Kristen Solecki is an artist and illustrator from Philadelphia who has made her way down the coast to the Carolinas. Since earning her degree in illustration from Philadelphia's University of the Arts, Solecki has worked with a variety of clients to create editorial illustrations, book cover art and illustrations, paintings and other projects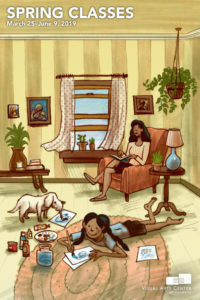 Jamie Douglas is an illustrator, designer and obsessive sketch-booker living in Richmond, Virginia. Whether based in personal experience or plucked from impossible dreamscapes, Jamie's art is always narrative, and it is often full of bad jokes.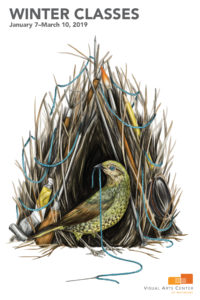 Clara Cline is a self-taught illustrator living in Richmond, Virginia with her husband, daughter, and pack of furry team members. She graduated from the University of Virginia with a philosophy degree, wandering spirit, and lifelong love of illustration–none of which she was sure what to do with. After working a series of office jobs, she was able to turn her after hours passion into a day job and has been wandering her way through a creative career ever since.
Nekisha Durrett creates large-scale public art, installations and drawings. Her work is inspired by her interest in the graphic style of comics and advertising, the layered meanings that objects can hold and the space where fantasy, imagination and history can converge.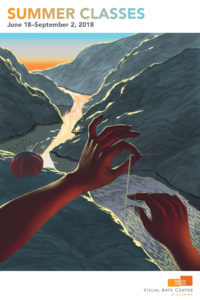 Cathryn Virginia is a Richmond-based artist who loves making illustrations about mythology, nature and femme revenge. Virginia's clients include Vice.com, Richmond Magazine, Johns Hopkins Health Review, Capital One and the Virginia Museum of Fine Arts, among others. She's also an Aries.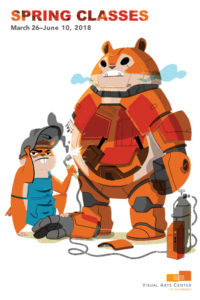 Chris Danger is an illustrator and animator from the small town of Wahiawa, Hawaii. He works his childhood dream job everyday by creating bright and colorful illustrations.
After graduating from the School of Visual Arts in New York City, he animated for Disney, Comedy Central, and Cartoon Network. He now teaches in Washington DC and creates illustrations for magazines and children's books.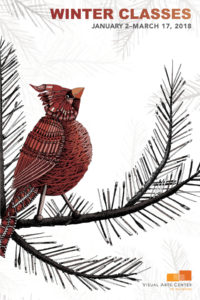 Amelia Blair Langford is an illustrator, designer and muralist based in Richmond, Virginia. She has worked with clients such as Capital One, New Normal Apparel Company, Perfectly Translated, New Forest Earth, Lava Labs and more. Her work has been featured in publications such as RVA Magazine, RVANews, the Wapsipinicion Almanac, The Anderson Independent Mail and Quail Bell Magazine.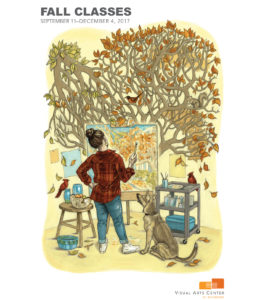 Katie McBride is a Richmond-based illustrator who has a long history with VisArts. Almost a decade ago, when McBride was a new VCUarts grad trying to launch a career as an illustrator, she paid her bills teaching VisArts art classes to kids and adults. At one point, she was teaching as many as six classes each session. Today, McBride works as a senior graphic designer and illustrator for the University of Richmond and takes freelance projects as well.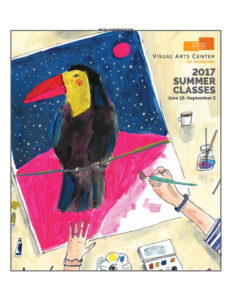 Elizabeth Graeber is a Washington, D.C.-based artist and illustrator who works in pen, ink, watercolor and gouache paint on paper. She attended the Maryland Institute College of Art. Graeber has illustrated two books, An Illustrated Guide to Cocktails and A Field Guide to Redheads, the later of which was a New York Times Bestseller. Illustration clients have included Alice + Olivia, Cup of Jo, Edible DC, Quirk Hotel, The Kitchn, The Wall Street Journal, The Washington Post, Warby Parker, and Whole Foods, and her work has been featured by FastCompany, Refinery29, Teen Vogue, and The Los Angeles Times.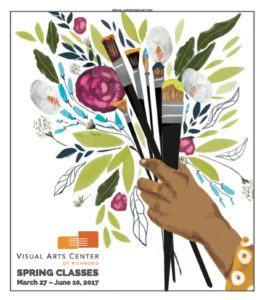 Maria Fabrizio earned her MFA in graphic design/visual communication from VCU and is the author of the book, "Cultivating Creativity: Daily Rituals for Visual Inspiration." She also runs the blog wordlessnews.com, on which she illustrates one news headline each weekday. Clients include National Public Radio, the National Journal, University of South Carolina, Serenbe, Rhode Island Monthly and Writer's Digest.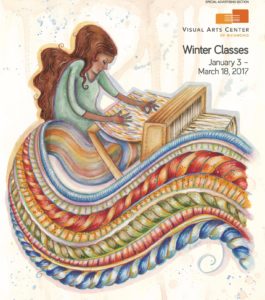 Holly Camp earned a Bachelor of Fine Arts from VCU and later attended the Illustration Academy. Clients include Random House, National Public Radio, Burt's Bees and Virginia Living Magazine, among others. Camp illustrated VisArts' winter 2017 catalog and led a workshop, "Wholesale Basics for Handmade Business."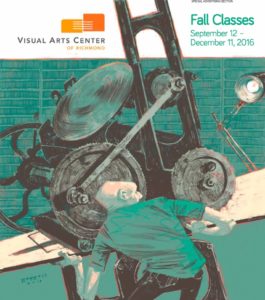 Jared Boggess studied communication arts at VCU and attended the Illustration Academy. His work has appeared in publications such as Richmond Magazine and Smithsonian Magazine and has been recognized by the Society of Illustrators, Print Magazine, AIGA and others. Boggess illustrated VisArts' fall 2016 catalog and led a workshop, "Drawing Like a Painter."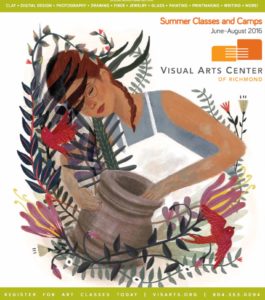 Victoria Borges is a Richmond-based illustrator who studied communication arts at Virginia Commonwealth University's School of the Arts. Clients include Richmond Magazine, Richmond Bridge, The Chicago Reader, Printa and Viction:ary. She was VisArts' first illustrator-in-residence, illustrating the summer 2016 catalog. She led a workshop titled "Illustration + Digital Media."