Alicia Dietz is Back with ArtVenture's Popular Go-Cart Making Class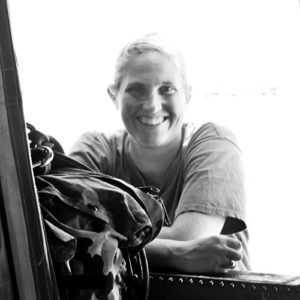 Last summer, Alicia Dietz's Woodworking on Wheels class was one of the first ArtVenture Summer Camp classes to fill. Kids spent a week building go-carts in the Visual Arts Center of Richmond's woodshop, and on the final day of class, Dietz let them race the finished products.
This summer Dietz is back with two more sessions of the popular summer camp class. Kids love working with wood and they love the go-carts, but they also love Dietz, who flew Blackhawk helicopters in the Army for a decade. As a maintenance test pilot, she commanded two different military companies—one at Ft. Wainwright, Alaska and one with the Multinational Forces and Observers in Egypt's Sinai Peninsula, so she has no trouble commanding the attention of a room full of 11-year-olds.
Dietz grew up in a woodworking family. Her father built much of the furniture in her parents' home, and as a kid, Dietz remembers building lightning bug catchers and a small toy school bus with him in his woodshop.
"When I was in the Army, and especially when I was in flight school, I was working 90 percent of the time," says Dietz. "You need downtime." The military's Morale, Welfare and Recreation (MWR) program boasted a woodshop, and Dietz began spending time there during her time off. "It's like VisArts on a military base." She built a child's rocking chair and a coffee table and wanted to learn more.
When Dietz got out of the Army, she attended Vermont Woodworking School in Faixfax, Vermont. Dietz, who already had a four-year degree from Ohio University, was pleased to learn she could use the G.I. Bill to pay for several certificate programs. Over the course of the two years she spent in Vermont, she learned how to cut dovetails and mortise and tenon, but what she really began to understand was the value of craftsmanship.
As part of the program, Vermont Woodworking School required students to complete an internship. Dietz wrote a letter to Wendy Maruyama, who Dietz describes as "the Meryl Streep of woodworking." Maruyama is a San Diego-based artist who combines woodworking techniques with image transfers to make sculptural and narrative pieces.
"Wendy was one of the first female woodworkers. In the woodworking world, if people ask who the most kickass woman working today is, it's Wendy."
Maruyama was working on her wildLIFE Project when Dietz approached her, and she agreed to have her out to California for the summer. Dietz was particularly excited to work with her because of her commitment to using art to talk about social causes. For instance, her Tag Project was a reaction to the United States' Japanese internment camps. "She uses highly crafted objects to tell a story," says Dietz. "She really introduced concept into my work."
Maruyama was also the person who urged Dietz to apply to graduate school. Virginia Commonwealth University's craft/material studies program was the only program to which Dietz applied, since her partner lives in Richmond, and she was thrilled when she got in. Art school admissions counselors are used to seeing students from every walk of life, but Dietz's military experience set her apart from her peers in the program.
She put that experience to good use when she began work on her graduate thesis, collecting the stories of 127 veterans, active duty soldiers and their families and displaying excerpts of their experiences in finely constructed wooden boxes. Dietz says the boxes are important because they help preserve the story, both metaphorically and literally. When arranged together, the boxes create a digital camouflage pattern.
Dietz graduated with her MFA in 2016 but she has continued to collect and share the stories of military personnel and their families. She calls the project "Collective Cadence," and it recently traveled to the Houston Center for Contemporary Craft, where her work was displayed alongside that of Ehren Tool and Drew Cameron in an exhibition titled "United By Hand." The show will be open through Memorial Day.
"In the military, I woke up every day and had a mission. In woodworking school and in grad school, the only person I was in charge of was myself. I struggled with that," Dietz said. "This project became my new mission and is how I give back."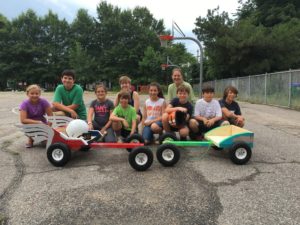 Dietz has found other ways to give back at the Visual Arts Center of Richmond. In addition to her Woodworking on Wheels classes, she'll be teaching an Image Transfers class at VisArts' ArtVenture Summer Camp program. She's been a guest artist for the Make Space program, and she regularly teaches Mixed-Media Image Transfers and Woodblock Printing in VisArts' adult education program. This summer she's offering an all-level adult Bandsaw Box class for the first time.
Find Dietz's work, which ranges from furniture to large installations and military concept art, at aliciadietzstudios.com. A permanent wall installation by Dietz has just gone in at the new Mellow Mushroom on Huguenot Road. The restaurant opens in June.