Tommy Van Auken to Receive Master Teacher Award at Collectors' Night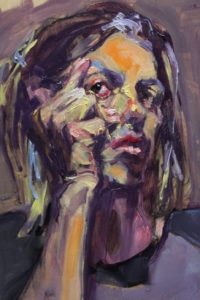 Tommy Van Auken will receive the 2016 Shelly Shepherd Master Teacher Award at the Visual Arts Center of Richmond's Collectors' Night gala on Saturday night.
Van Auken has been an instructor at the Visual Arts Center of Richmond since 2003. During most sessions, he teaches five classes—drawing fundamentals, introduction to oil painting, introduction to figure drawing, figure drawing and painting, and Art League courses, which are geared toward high school students.
"Basically, I never say no," said Van Auken. "I've taught Art After School, Studio S, ENGAGE programs. Once I taught painting to a room full of Girl Scouts."
VisArts has recognized one member of its faculty with the Master Teacher Award since 2001. The award was renamed in 2011 to honor the memory of long-time watercolor instructor Shelly Shepherd.
The award goes to an instructor who exemplifies the organization's mission through his or her excellence, creativity and dedication to students. Students, staff, faculty, board members and members of the greater Richmond community are invited to nominate their favorite instructor for the award. This year, VisArts received more than 45 nominations.
One student wrote of Van Auken, "Tommy recognizes where you are in the process of learning and puts himself there so that he can guide you toward your own goals. It is obvious that he is a gifted teacher and equally obvious that it is not based only on years of experience teaching but also [years spent working] as a professional artist."
Van Auken grew up in Richmond and attended Corcoran in the 1990s. He has shown his work at Eric Schindler Gallery for more than two decades and has previously shown work at Joan Wisch & Co. in Houston; Second Street Gallery in Charlottesville; and ArtSpace and 1708 Gallery in Richmond.
Van Auken is a contemporary realist but he says he's always hesitant to use that label. He uses traditional drawing and painting methods and materials but is very interested in using them in new ways and making them relevant in a contemporary world.
Many of his classes focus on traditional drawing skills. "I don't want to give students a formula, but I do want them to study cause and effect," said Van Auken. "I'm a big believer that there is not a right or wrong way to make art, but that you do need to know what the paint is going to do."
Another student underscored that sentiment when he wrote, "His objective is not to get us to do art 'his' way but to describe how the artist uses the technical and creative aspects of drawing and painting to achieve his or her own goals."
Previous recipients of the Shelly Shepherd Master Teacher Award include: Richard McCord, Shelly Bechtel Shepherd, Kirk O'Brien, Susan Quinnild, David Tanner, Jim Valentine, Jay Sharpe, Lisa Fisher Johnson, Tesni Stephen, Leslie Shiel and Jeff Vick.