VisArts Unveils Winter Catalog Illustrated by Richmond Native Amelia Langford
For illustrator Amelia Langford, it's all in the details.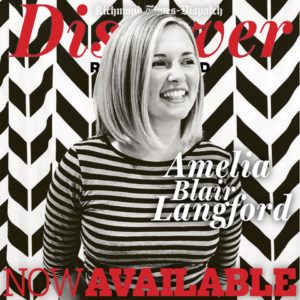 She's the Visual Arts Center of Richmond's newest illustrator-in-residence and the artist behind the winter 2018 catalog, which arrives in members' mailboxes this week.
Langford's cover illustration depicts a cardinal on a wintry branch. Look closely and you'll notice the bird is made up of paintbrushes, pencils and other art supplies, which represent VisArts' 11 creative mediums.
"I really wanted to pay homage to cardinals," she said. "They're these nice little red pops of color that you see in the trees around Richmond."
Langford works with pen, ink, graphite and paint, but her favorite mediums are pen and ink on paper. She's particularly fond of working in black and white. Whether it's a large-scale mural or a small editorial design, Langford pays tremendous attention to detail. "Every little dot and every little line is very satisfying to me."
Langford is a Richmond native and jokes that she's lived everywhere in the city limits. In the October 2017 edition of its Discover Richmond magazine, the Richmond Times-Dispatch named the artist one of 22 "people in Richmond you should know."
It also takes a detail-oriented person to maintain a schedule like Langford's. The 2012 VCUarts graduate splits her time illustrating, designing, coordinating events, painting murals, teaching classes and managing VCU's Grace Street Theater. "Every day is different and I like being busy."
Langford has become a familiar face at VisArts. Most recently, she taught a mural painting class for kids at VisArts' Artventure Summer Camp. She'll be back in the studio in February, teaching a course called "Pen Technique and Illustration Inspired by Richmond's Landscape," for students aged 15 to 18.
Lately, Langford has been busy with mural projects in Richmond, Washington D.C. and Norfolk. The artist says she's always on the lookout for more walls to paint. Painting a portion of The Diamond stadium during the RVA Street Art Festival in September was particularly special for Langford, since she grew up attending baseball games there with her family. Her current undertaking is a large, black and white mural at Triple Crossing Brewery.
VisArts selects four artists annually to serve as illustrators-in-residence. Each artist illustrates a catalog and is invited to lead a workshop on the topic of his or her choice. Past illustrators-in-residence have included Katie McBride, Elizabeth Graeber, Maria Fabrizio, Holly Camp, Jared Boggess and Victoria Borges.