Richmond Artist and New VisArts Board Member, Frankie Slaughter, Unveils New Work at Collectors' Night and Lynchburg, Va. Exhibition
Frankie Slaughter is a Richmond-based, mixed media artist and the Visual Arts Center of Richmond's newest board member. This month, she's unveiling a swath of new works, including one piece that's up for auction at VisArts' 32nd Annual Collectors' Night gala on March 17.
During the first weekend of March, Slaughter's mixed media collage, "Puzzling Ideas," was installed among 60 other works of art on the walls of VisArts' True F. Luck Gallery.
This month, Slaughter also opens a new exhibition titled "pursuing now" at the Academy Center of the Arts' Ann White Gallery, located in Slaughter's hometown of Lynchburg, Virginia. The exhibition represents a pivotal shift in her body of work, Slaughter said, noting that her most recent work is more colorful and incorporates several new mediums and techniques. "Pigmented encaustic and cold wax have both lent themselves to putting together a collection of bolder work," she said. "It's more playful, free-flowing and more dramatic."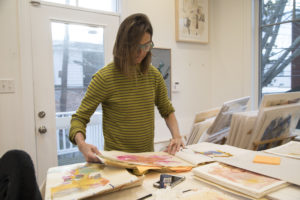 The artist says she's already thinking about a show she has planned for fall 2019 at Richmond's glavé kocen gallery, where she's represented. "My work is evolving," she said. "My language and signature are still there, but I really try not to get stuck."
Slaughter took her first VisArts class in the early 1990s, when the organization was still called the Hand Workshop. She had just moved back to the U.S. after living in Hong Kong, and when she discovered the center, she registered for Karen Kincaid's welding class and a jewelry class taught by Susan Adams. Slaughter fondly remembers subsequent classes she took with ceramics instructors Richard McCord and David Camden.
Many years and another move to Asia later, Slaughter is glad to be back at VisArts as its newest board member. "I've been so impressed with the positive changes in the organization," she said. "It's a great place to focus my energy."
Slaughter's piece, "Puzzling Ideas," will be on view at the Collectors' Night Preview Party on March 8 from 5 to 8 p.m. The preview party gives guests a sneak peek of all the art that will be up for auction at Collectors' Night and allows guests to buy tickets and submit proxy bids. VisArts' 32nd Annual Collectors' Night, presented by Dominion Energy, includes a cocktail reception, silent auction and seated live auction. Tickets cost $150 for VisArts members and $175 for the general public. Reserved tables are also available.