A Very VisArts Love Story
Glass artist Sean Donlon is celebrating his third Valentine's Day with girlfriend Kelley Galownia, whom he met at the Visual Arts Center of Richmond.
Donlon is a full-time artist and the founder of Mule Barn Craft Studios, a collaborative art space in Richmond, which has a conceptual craft focus. He earned his Bachelor of Fine Arts in craft and material studies from VCU in 2012, and teaches regularly at VisArts.
Donlon and Galownia met in 2015 at VisArts' annual chili throwdown. He took a group of his studio interns to the event but left before he got a chance to eat.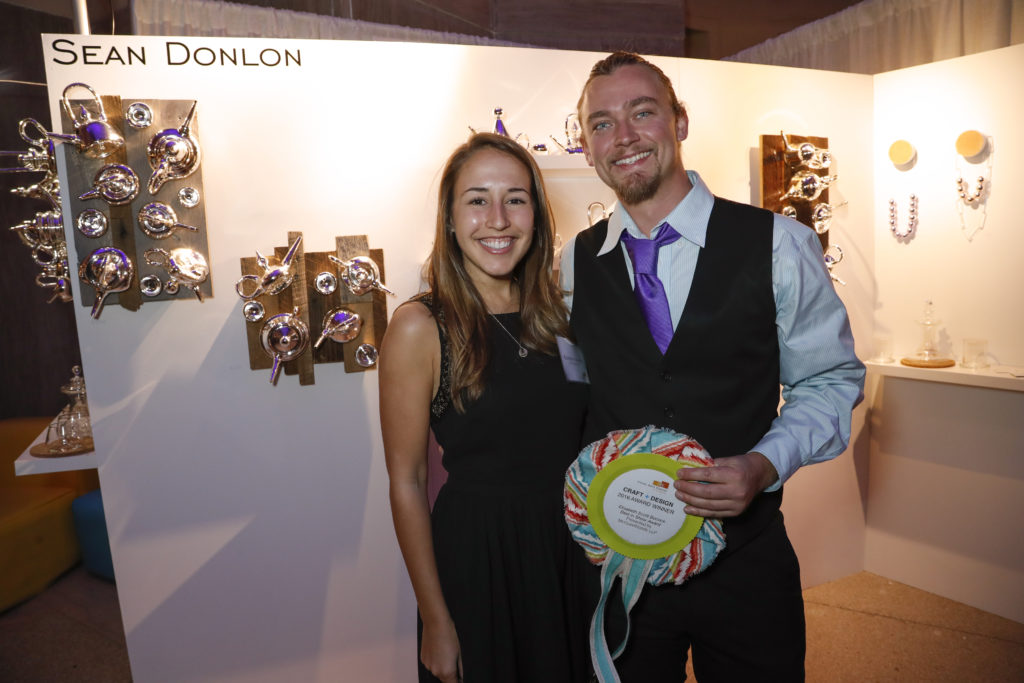 "After dropping everyone off, I realized I was still hungry, so I went back to VisArts for chili," Donlon said. There, he ran into a friend, who introduced him to her roommate, Galownia. "We ended up talking the whole time, so I still didn't get a chance to eat."
Six months into their relationship, Donlon and Galownia realized they'd actually already met at another VisArts fundraiser, Young + Artful.
Recently, Galownia has started helping Donlon in the studio. "Kelley has started working with me on the furnace for fun," he said. "It's a great couples activity." The task requires one person to add air to the object, while the other person turns it.
Donlon and Galownia are regular attendees at VisArts fundraisers, including Craft + Design. In 2016, Donlon, who was a first-time exhibitor at the contemporary craft show, won the Elisabeth Scott Bocock Best in Show Award for his collection of mirrorized teapots, which he installs on reclaimed wood or other surfaces. One of his largest installations is in Quirk Hotel's restaurant, Maple & Pine.
Donlon will teach furnace-working techniques at VisArts this spring. "Introduction to Hot Glass" is a new class that he's co-teaching alongside glass artist Michael Martin. The weekend workshop is scheduled for June 2 and June 3. Over the course of the weekend, students will delve into large-scale, soft glass processes and explore beginner techniques for solid shaping and sculpting.