North Carolina-Based Illustrator Kristen Solecki is the Artist Behind VisArts' Cat-filled Summer Catalog
The Visual Arts Center of Richmond's summer class registration opens on Wednesday, April 17 and VisArts recently released a special catalog, illustrated by North Carolina-based artist Kristen Solecki, the center's current Illustrator-in-Residence.

Solecki said the concept for VisArts' catalog came from an idea about her own studio space.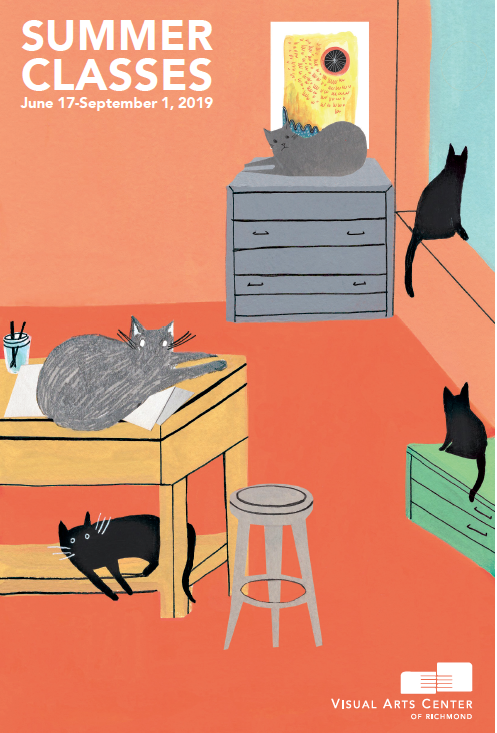 "The inspiration for the summer catalog is pretty much my dream studio," she said. "My cat is always amidst my work, and sometimes walking right in the middle of it." 
Solecki is an artist and illustrator based in Chapel Hill, N.C. She has a degree in illustration from the University of the Arts in Philadelphia, and she works with clients to create editorial illustrations, book cover art and illustrations, marketing materials, paintings and other projects. Solecki also exhibits her art in galleries around the country, teaches workshops and curates exhibitions.
"I don't remember a time when I didn't draw," she said. At an early age, Solecki was inspired by illustrations in children's books. She said she always knew she wanted to be a professional artist, and she started looking at art schools during her freshman year of high school.  
Solecki enjoys the variety that comes along with her career as a full-time artist.
"I love that each project I work on is different," she said. "Whether it's doing research for an illustration or coming up with a new way to tell a story, I love that this is a profession that allows me to create and stay curious."
Solecki uses ink, gouache, acrylic paint and collage to create illustrations with an emphasis on line, shape and bold colors.
During VisArts' summer session, Solecki will travel to Richmond to teach a special workshop called "Postcard Print Swap."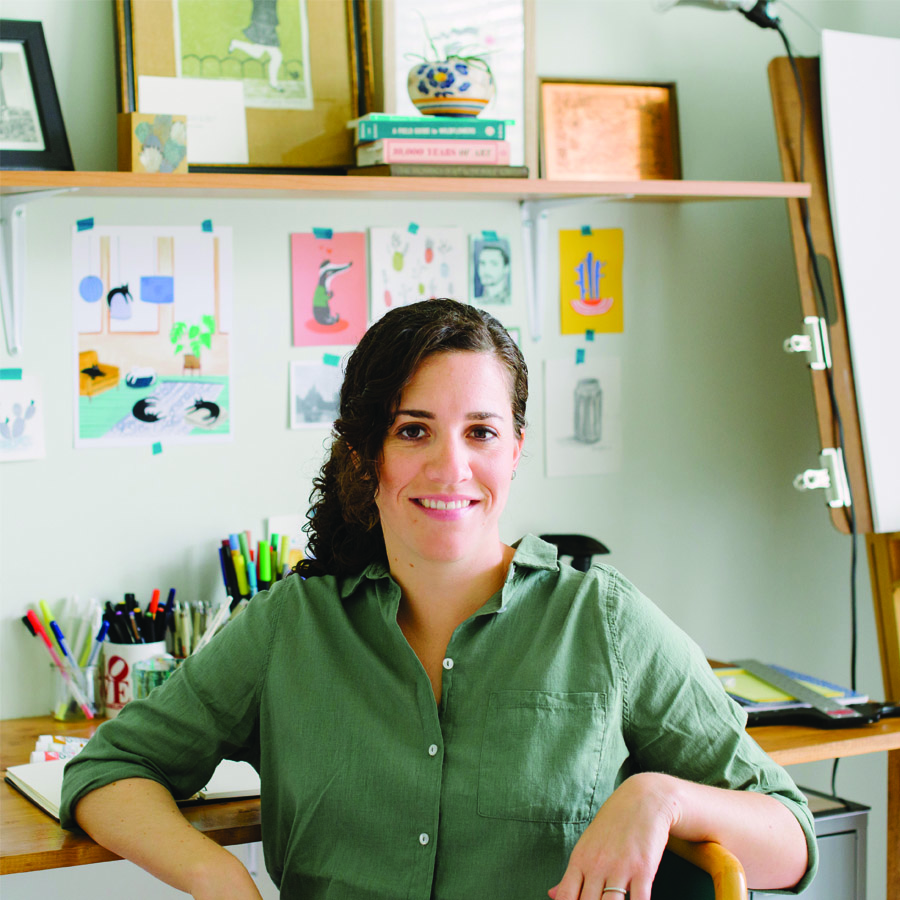 "Postcard Print Swap introduces all of the things I love about making art in one workshop: Drawing, printing, travel and community," she said.
Students will turn their drawings (inspired by summer nostalgia, trips and memories) into linocut printed postcards and swap with each workshop attendee. "Everyone will leave with their own set of work and a mini art collection," Solecki said.
Each year, VisArts selects four artists to serve as illustrators-in-residence. The artists illustrate a catalog and are invited to lead a workshop on the topic of their choice. Take a look at our past illustrators-in-residence.

Registration for summer classes is open! VisArts is offering over 175 adult art classes and 280 youth and family classes. Browse the printable catalog online or pick it up in print at our front desk.