Over 300 Guests Attend "Blip of the Moment" Opening; Exhibit closes Oct. 24
"Blip of the Moment" a joint exhibition of work by Matt Lively and Ed Trask as presented by the Visual Arts Center of Richmond (VisArts) and Glave Kocen Consulting opened on Friday, September 17. It will show at the Visual Arts Center of Richmond's True F. Luck Gallery until October 24, 2021.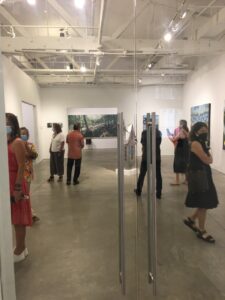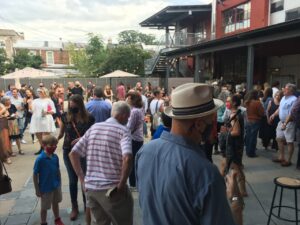 The opening event welcomed over 300 visitors to the gallery, bringing together friends and family of the artists, as well as Richmond locals for a homecoming celebration after almost 2 years of shutdown during the pandemic. This event was the first gallery opening at the Visual Arts Center of Richmond since Lily Cox-Richards & Michael Demps' "walking with" exhibition, which occurred November 15, 2019.
During the live artist talk, Matt Lively and Ed Trask discussed the importance of their exhibition, Blip of the Moment, and how they connected with each other over the last two years between topics of solitude, mental health and revering their time spent in nature. While Lively led outdoor plein air classes with a strong following, Trask explored connections between music and painting along the river.
Blip of the Moment is the culmination of Matt Lively and Ed Trask's connections to the metaphysical world, a period of deep introspection and reflecting upon their beloved home of Richmond, Virginia. Through a series of small blips in time, this show considers how to stop what we are doing and experience what the natural world holds for us.
Matt Lively earned a BFA in Sculpture from Virginia Commonwealth University and has exhibited nationally and internationally in numerous solo, juried and group exhibitions. He has taught at VCU and the Virginia Museum Studio School and currently operates his own classes, "Painting Outside with Matt Lively". Lively serves on the board of 1708 Gallery, is a co-founder of the award-winning collaborative environmental sculpture duo, Lively/Harper, and is a contributing founding member of Ink Tank Lab. He serves as art director for various short independent films and is the producer of the documentary titled "Death". He continues to be involved with several Richmond community projects, including Mending Walls, Artists of Hope and All In Together. Matt Lively is a recipient of the Theresa Pollak Prize for Excellence in the Arts and his work can be viewed in collections throughout the U.S., Canada, Europe, Australia, and China.
Ed Trask is a musician, painter, and muralist whose work has been collected into many permanent collections. Trask earned a BFA in Painting & Printmaking from VCU, and while in school, he transformed many of the dilapidated buildings around Richmond City into his very own art gallery through painted murals. After graduating in 1992, he continued painting illegal murals around the world while on tour with his music bands and friends. Trask has since become involved with bringing creative changes to Richmond through public art. He co-founded the RVA Street Art Festival and served as a commissioner for Richmond's Public Art Commission. Trask is a past board member of the Visual Arts Center of Richmond. He has lectured and facilitated creative consulting programs for numerous corporations while working with community nonprofits to bring creative, inclusive public art throughout the city. Ed Trasks' paintings and murals appear in many permanent collections, including the Modern & Contemporary Art Collection at the Virginia Museum of Fine Arts.
The Visual Arts Center of Richmond hosts at least four contemporary art exhibitions each year in the True F. Luck Gallery. The gallery is open between the hours of 9 a.m. and 9 p.m. every day. Admission to the gallery is free.