Over 500 Guests Attend "Of Mud & Blood" Opening; Pieces Up for Auction Until Dec. 20
The Visual Arts Center of Richmond (VisArts) hosted over 500 guests at the opening for "Of Mud & Blood," an exhibition that features collaborative works by Central Virginia-based ceramicists and tattoo artists. The exhibition explores these centuries-old crafts through various vessels, sculptures and many other forms. Known for their own traditional styles and techniques, the artistic practices of clay and tattooing came together to bridge these two worlds.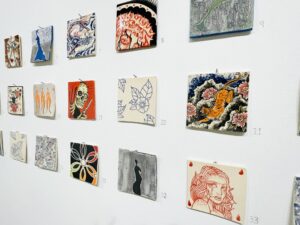 "Of Mud & Blood" was curated by artist and tattooer Katie Davis and VisArts Clay Studio Manager Jeff Vick. It featured a variety of clay forms made by 18 clay artists that were then painted on by 33 tattoo artists, each picking out a clay vessel to paint on using distinctive tattoo art and techniques to make one-of-a-kind art pieces.
"Tattooers concentrate on making art for a shape, we try to design something that fits the body organically and the tattooers that participated in this exhibition focused that way as well on the ceramic pieces. It's a different medium but we treated it similarly and honorably like we would with the human body. It was really interesting to see all the varied and interesting design aspects we brought to the collaboration. After painting, we returned the pieces to the ceramicists and trusted them to glaze it in a way that they saw fit, complementary to the design work that was done so it was a complete blind collaborative effort which I think is amazing," said Katie Davis during the artist talk about "Of Mud & Blood," the exhibition she participated in and co-curated.
Artwork from the exhibition will be on auction starting November 12th through December 20th 2021 ending at 7:59:59 PM, EST. All proceeds from this auction will be split between two local Richmond organizations, MAD RVA and Health Brigade, as well as community partnership programs at VisArts. The silent online auction is hosted on GiveSmart. The exhibition runs until January 9, 2022 in the True F. Luck Gallery at VisArts.
CERAMIC ARTISTS
David Camden, Merenda Cecelia, Missy Cochrane, Joanna Gragnani, Karen Hull, Dan Kaczka, Paul Klassett, Bernadette Larimer, Claire McCarty, Philip Mills, Christine Orr, Kathleen O'Connor, Al Pellenberg, Angelique Scott, Maria Stone, Kourtenay Plummer, Jeff Vick, Holly Zajur
TATTOO ARTISTS
Josh Autrey, Mike Baker, Nick Barnett, Amy Black, David Boisineau, Jason Brown, Brian Bruno, Nick Bryant, Andrew Conner, James Cumberland, Katie Davis, Sterling Frost, Timothy Hoyer, Marina Inoue, Willie Kirby, Kpham, Adam Marton, Nate Moretti, Jelena Nikolic, Ian Ó Nualláin, Fred Pinckard, Chris Porter, Daryl Rodriguez, Nicholas Ruffilo, Miky Scheer, Holley Setzer, John Setzer, Rosemary Shackelford, Tim Skirven, Sophie Stell, Beth Stratton, Tannis, James Travis