A Conversation With Caryn Blum, the Illustrator Behind VisArts' Summer 2022 Catalog
The Visual Arts Center of Richmond's Summer 2022 Catalog was illustrated by Caryn Blum. Caryn is an artist and arts educator based in Fish Creek, Wisconsin. In this article Caryn shares details about her artistic inspiration and illustration style.
Q: What inspired you to start illustrating?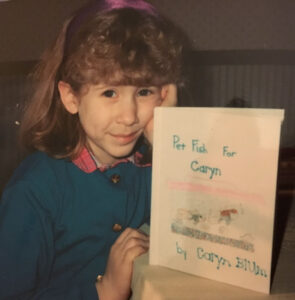 I have created illustrations since I was five years old. I was inspired by nature, daily life and the curriculum I was learning in school. These works were not prompted by anyone. I was often the kid who finished work early in school and was allowed to develop whatever art and writing projects I wanted as independent study. I wrote books about birds, people, fish, rabbits and dinosaurs all before age eight. I took every type of art class I could in school and at art centers. I was an AP Portfolio art kid in High School, earned my B.F.A and sold my illustrations and paintings throughout high school and college.
The silliness, playfulness and art fundamentals of early childhood and elementary learning have been the most influential to me as an illustrator. I have taught elementary art from 2007-2021 from preschool to 8th grade. Through several amazing experiences with schools, I met thousands of kids who were confident in making art and loved creating their own ideas.
This fueled me to find new ways to represent the spirit, joy and imagination of childhood and elementary education. I am constantly inspired by the persistence, curiosity and confidence kids have in their artworks. Even if kids are doubtful or lack experience, creating work for kids and families is ultimately to help kids see new possibilities in art.
Q: What inspires your work?
My illustration celebrates positive learning themes, and I want my art to reflect things I value. I pursued Elementary Education, and I have worked on illustration side projects ever since. A child's perception and use of art are typically joyful, personal and curious. I found that elementary schools supported positive values that felt healthy for me to be around. This way of responding to art is really why I loved art to begin with. Once I became an art teacher, I began to witness every day how illustration helped children to learn. Children connect to illustrated picture books, and the images scaffold early literacy and learning across all subject areas. Illustrators work to illuminate concepts in Science, Math, Social Studies and Reading for many kids.
I have worked with many visual styles, but what scaffolds the work is a lot of research in Education. From the types of scribbles three-year-olds make, to the philosophy of unplugging your child's technology and spending the day outdoors; there's always a stack of books, and months of teaching fueling my creations.
Q:  Can you describe your creative process?
My process is based on an idea first. For one children's book, Tree Teachers, I wanted to create a series that paid homage to kids' independent play and learning outdoors. I made a series of sketches completely from my imagination and collected natural objects as a reference. I then created a series of hand-painted watercolor and gouache scenes reflecting a community that allowed nature to be a focus, inspiration and teacher for kids. It's really just adjusting proportion, scale and features as you draw, paint, collage or sculpt. It's fun to represent people in ways that celebrate how kids are artists, and all people can create.
Q: Where did you get your idea for the VisArts Summer catalog designs you created?
My goal for this illustration residency was to combine my hand-drawn figurative illustration with painterly processes of layering and opacity in Adobe Illustrator. This series of work draws upon themes in Art Education, as well as site-specific ideas of place connected to this very artsy city that I have enjoyed visiting.
In these hybrid hand-drawn/digitally painted works, teachers, kids and adults are engaged in art-making. Projects they're bringing to life include a paper mache heron from the James River, painted and glass-blown cherry blossoms, a woven printed and painted James River, a paddleboat from a canal in Richmond and tiny sculpted historical row houses. The people are made entirely from imagination, and they represent the diversity of people that can connect to art, art teaching and creativity. These characters are immersed in traditional art processes at all levels of learning from younger elementary students learning to piece together their first construction paper collage; to adults sharing printmaking and glassblowing processes that have been passed along to new people for hundreds of years.