Q & A with Illustrator Adam Goodman – Illustrator of VisArts' 2023 Fall Class Catalog
If you've picked up VisArts' 2023 fall class catalog then you've encountered mixed media illustrator Adam Goodman's fun, humorous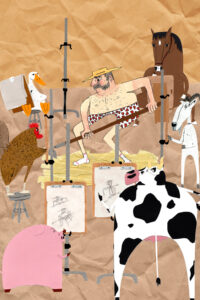 barnyard animals. The characters illustrated by Goodman, a Philadelphia-based VCU grad, depict farm animals studiously making art.
Goodman loves to use humor in everything he does, and this catalog is no different. Using his signature paper-cut collage style he developed during his third year at VCU, Goodman's cover illustration for VisArts features a cow, pig, horse, duck, chicken, and ram whose easels surround an almost naked farmer who poses nude with a pitchfork.
In this Q&A, Goodman shares some of the essential elements of his design process.
Can you pinpoint what inspired you to begin illustrating?
When I was younger, I read a lot of "Calvin and Hobbes," and other comic strips in the Sunday newspaper. That probably had the biggest impact on me becoming an illustrator and for a while I only drew comics. It wasn't until I arrived at VCU that I started to venture into editorial illustration and children's book illustration.
What inspires your work?
Tons of stuff. Jazz, old Penguin book covers, New Yorker cartoons, Samurai Jack, old people, my family, things I find on Pinterest. For artists that I've been inspired by, to name a few, I'd say, Saul Bass, Matisse, Maurice Sendak, Jacob Lawrence and George Booth. I also really enjoy putting some humor into my work so comedy plays a big factor.
How did you get involved with (or learn about) the Featured Illustrator program at VisArts?
I think I first found out about it from my friend Erin Jhi. She had a residency with Visarts at one time and also illustrated the Fall catalog back in 2022. Shout out to Erin!
What's your creative process like?
When I have an idea in place, I always start by sketching on some crummy paper like newsprint. Paper that I am in no way attached to. Then when I miraculously draw something that resembles what I have boiling in my brain, I'll go over it and refine it using tracing paper. I'll then transfer parts of the sketch from the tracing paper onto different sheets of construction paper and cut out the individual pieces with an X-acto knife. 
It's often a lot of time messing around like putting a puzzle together, adding and subtracting different pieces until I'm okay with it. Once I reach that point, I glue everything down and add some embellishments using a range of media from ink to colored pencils. 
What was the inspiration behind the 2023 Fall catalog design?
I'm calling the work "Barnyard Atelier," and I thought it would be funny to see farm animals in art classes and making artwork. You could argue the 2006 animated movie "Back at the Barnyard" had subconsciously played a role in the formation of this idea.  
Is there anything you love in particular about illustrating in this style?
Illustrating in cut-paper collage has plenty of advantages. There's a lot of control and freedom in the medium. You can be very meticulous and considerate or go absolutely nuts, tearing pieces apart and frantically gluing them down.
It's also one of the most forgiving mediums I've worked in. Nothing is really final on the page. If you mess up or are unhappy with the result, you can just paste more paper on top and move on. 
Working with paper also allows an immediate and consistent application of color, unlike with paint where you must spend time mixing and trying to get the exact color you're looking for. I can, however, choose to add other mediums over top of the paper, like paint or ink, or pastel. I use a smorgasbord of different media in my work, along with cut paper, to achieve the desired look I'm aiming for. 
Lastly, It's affordable! All I need is something to cut with (scissors or an X-acto knife), a cutting mat, some paper and glue.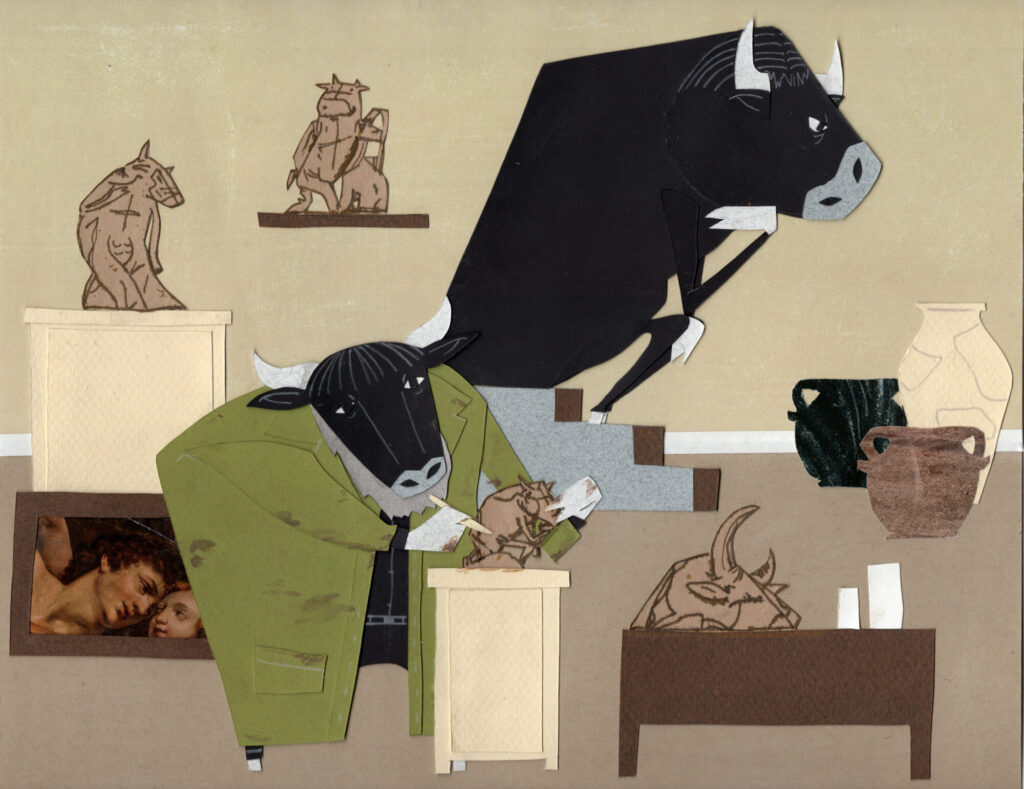 Do you have any past projects you are very proud of? And what are some exciting projects coming up for you?
I did a small series of cut-paper pieces I call, "The Mind Garden." They were these whacky, floral, abstract collages with bright colors and shared motifs. It was the first body of work I had put together using cut-paper and it involved a lot of play and imagination. It's a project I'd very much like to revisit. 
Another project I did was a commissioned piece for my cousin Katie. It was a jazz club with a full band and partygoers underneath stage lights, all done in cut paper. It was a truly ambitious project and the largest piece I've done to date.
As for upcoming projects, I'm currently working with my landlord Dan on a children's book he wrote called, "We'll Catch You If You Fall." It's a story of a baby monkey that gets stuck in a tree and some friendly birds help him climb down.