Q&A With Illustrator Tess Wladar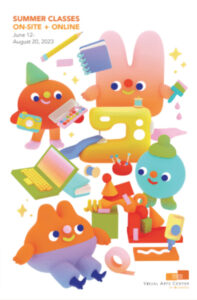 If you've picked up VisArts' summer 2023 class catalog you've most likely encountered the delightful 3D characters created by illustrator and animator Tess Wladar. Tess is a 3D illustrator, animator, and fiber artist from Richmond, Virginia. She uses 3D modeling software to create adorable characters (that we, at VisArts have affectionately dubbed, "the squishies"), objects, and environments full of color and whimsy. Here's a short Q&A about Tess and her creative process.
What inspired you to start illustrating?
I've wanted to be an artist ever since I was little, so I've been drawing/illustrating my whole life! In college, I took a course on 3D modeling and absolutely fell in love with the medium. It felt like such an exciting and unique way to make images!What inspires your work?
I'm inspired a lot by children's media. I'm drawn to anything cute, colorful, and a little bit weird. I currently love looking at vintage picture books from the 60s and 70s and expensive toys made by independent artists as well as bigger brands like Jellycat. I grew up watching 3D animated shows and movies and now I work with the kind of software they used to make all of those. So I'm definitely inspired by all of that 3D animation I consumed as a child.How did you get involved with (or learn about) the Featured Illustrator program at VisArts?
I was volunteering at VisArts and saw flyers about it. Some of the staff here were also super encouraging and suggested I apply!
Describe your creative processI use 3D modeling software to make all of my illustrations. The way I work is more like sculpting than drawing. I build these little virtual sculptures that I can then digitally "paint" different colors. Then I'm able to rearrange all of those little, digital sculptures in space until they're exactly how I want them in my final 2D images.
What was the inspiration behind the 2023 Spring catalog design?I was inspired by a lot of our past catalogs! I looked through the big list of featured illustrators we've had in the past and was really inspired by the variety of people's styles and subject matter. It made me feel like I was really free to do my own thing! I was also of course inspired by all of the classes offered at VisArts! I observed a lot of youth classes as a volunteer and intern here, so I included a lot of the tools and supplies we have here.What do you love about illustrating in this style?I love being able to make things so cute and whimsical and I love being able to explore this new digital method of creating images!What past projects are you most proud of? Do you have any exciting upcoming projects?I'm really proud of my 3D comic book! It's called "Moon Snail Salad" and it's about a magical snail from outer space. You can read it all on my Instagram (@sugar_fig)! And I'm currently really excited about a children's book I've been working on.What class/workshops (if any) will you be teaching at VisArts in this Winter?I'll likely be teaching classes on 3D animation this Winter so look out for those!
Tess has a BFA in Communication Arts from VCU and is pursuing a career in editorial and children's book illustration.