Jewelry Artist Ashley Buchanan Selected to be Craft + Design Featured Artist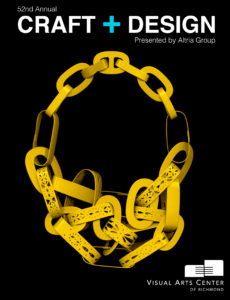 The Visual Arts Center of Richmond has selected Tennessee-based jewelry artist Ashley Buchanan as the featured artist at this year's Craft + Design Show, which will take place Nov. 18-20, 2016.
Buchanan works primarily in powder-coated enamel. A statement necklace, "Chaos Chain in Yellow," is the piece the Craft + Design committee selected to include on all its marketing materials.
Buchanan's work has been highlighted in several national publications, including Ornament Magazine and Metalsmith Magazine. Most recently, she was featured in American Craft Magazine, where she was short-listed for the Emerging Voices Award.
"Ashley is a prolific artist who has established an incredible career for herself at a very young age," said Stefanie Fedor, executive director of the Visual Arts Center of Richmond. "Her work is bold and fresh and we think it will help introduce Richmond's oldest shopping tradition to a new generation of women."
To celebrate the 52nd year of Craft + Design, Buchanan has designed a series of three powder-coated bracelets in black, white and VisArts' signature turquoise. The bracelets sell for $35 each or three for $90, and VisArts receives 10 percent back from each sale. Buchanan's bracelets will be available for sale at Craft + Design but are also being pre-sold on VisArts' website and at upcoming VisArts events such as the Oct. 20 "Meet Your Maker" event. People can also buy them at VisArts' front desk and at Quirk Gallery.
Buchanan earned a Bachelor of Fine Arts in jewelry and metalsmithing from the University of Georgia. She has exhibited nationally and internationally in galleries and museums such as Velvet da Vinci, Quirk Gallery, The Racine Art Museum and the Museum of Art and Design in New York where she was one of the artists featured in LOOT: MAD About Jewelry in 2013. She recently completed her second collection, which was featured at SOFA Chicago 2015 with Donna Schneier Fine Arts.
In addition to Craft + Design, which she attended in 2013, Buchanan regularly participates in the Smithsonian Craft Show, the Philadelphia Museum of Art Craft Show and the American Craft Exposition. She is a 2014 NICHE finalist and was also one of ten finalists for the Society of Contemporary Craft's 2013 LEAP Award.
Buchanan currently lives and works in Johnson City, Tennessee.