Elissa Levy Unveils New Work in VisArts' True F. Luck Gallery, September 7 Through November 18, 2018
An exhibition of work by New York City-based artist Elissa Levy titled "Of secrecy, the violet" opens in the True F. Luck Gallery at the Visual Arts Center of Richmond on Friday, September 7, 2018.
In this solo exhibition, Levy experiments with a variety of materials and techniques that blur mediums and genres. She will present prints, collages and sculpture using materials ranging from fabric and leather to aluminum.
At the heart of this exhibition is Violet Gibson, a distant relative of Levy's whose religious fervor led her to attempt to assassinate Benito Mussolini in 1926. Levy layers historical sources—including media reports of Gibson's crime and documents used as evidence against her—with associative images such as her namesake flower, the violet. Levy also draws parallels between, and occasionally connects, Gibson's story and the political fall and resignation of U.S. President Richard Nixon.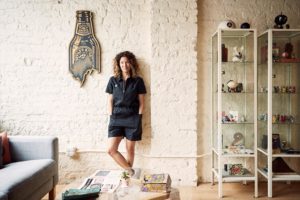 Long interested in media representation—pulled straight from the day's newspapers—Levy uses events of the recent past to explore how media shapes the perceptions, fates and legacies of those whose private lives unfold in the public eye.
This solo exhibition, guest curated by Lauren Ross, is the culmination of Levy's time in the Quirk+VisArts Artist-In-Residence Program. The artist is spending several weeks of her summer 2018 residency living in Richmond and making work at the Visual Arts Center of Richmond. New work is being made by the artist in collaboration with VisArts teaching artists and Richmond fabricators, including local laser engraving shop BIG SECRET.
Levy's opening includes a 5:30 p.m. artist talk, followed by a public reception from 6 to 8 p.m. The show runs through November 18.
The Visual Arts Center of Richmond hosts at least four contemporary art exhibitions each year in the True F. Luck Gallery. The gallery is open between the hours of 9 a.m. and 9 p.m. every day. Admission to the gallery is free.