Meet Artists Grace Manno + Dashiell Kirk, the Illustrator Duo Behind the Fall 2021 Catalog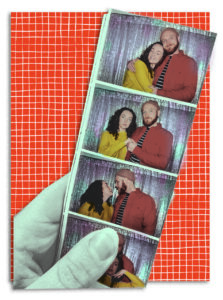 The Visual Art Center of Richmond is in the fifth year of its Illustrator-in-Residence program. A program in which VisArts collaborates with a talented illustrator to design its seasonal class catalog. VisArts is the largest non-university studio-arts education program in Virginia. Equipped with 17 studios for exploring mediums in clay, wood, metals, jewelry, glass, painting, digital media, and photography, VisArts is known for its extensive class offerings for youth and adults.
Grace Manno and her partner Dashiell Kirk rose to the challenge of illustrating VisArts' fall 2021 catalog. The first printed catalog since the COVID 19 pandemic shut down in-person class offerings in 2020. VisArts spoke to them about their inspiration and their creative process for creating the fall 2021 class catalog.
VISARTS: What inspired you to start illustrating?
GM+DK: Both of us have always loved art and design from a young age. We met during our studies at VCUarts and have been working creatively ever since!
VISARTS: What inspires your work?
GM+DK: Our inspiration comes from a wide range of influences and sources. We look to history, aesthetics from the past century, futurism and science fiction, nature and landscapes – in short, the world and time around us! It's great when many distant, seemingly unrelated ideas and concepts can be connected through design – in the end, it's really ALL related!
VISARTS: VisArts has worked with some pretty talented illustrators in the past; what was the process like for getting involved with the Illustrator-in-residence program for you?
GM+DK: Grace was initially approached to illustrate this catalog in 2020 – but plans changed due to everything that happened in 2020. When asked again to pick up the project in 2021, she proposed the idea of it being a collaborative catalog – all we wanted to do after a year of isolation was work together!
VISARTS: That's what we missed the most during quarantine in 2020, working in person and being in community with other artists. Describe your creative process when working together?
GM+DK: Our process is highly collaborative and always begins with research and dialogue. We think of it like getting in an aircraft and flying over the project to map out the general lay of the land. We begin to explore the landscape of ideas – both visual and conceptual – to identify the creative problems that need solving for that particular project. Eventually, once our route is planned, we approach the same landscape on foot, exploring the makeup of smaller aspects. Zooming in and out of a project like this helps us switch between paying attention to broad concepts and engaging details.
VISARTS: What was the inspiration behind the 2021 fall catalog design? Did the pandemic and social unrest coming out of 2020 influence your work or how you work in any way?
GM+DK: We felt that this fall catalog represented the community's return to the Visual Arts Center after the challenges that the pandemic created for so many people. As instructors, we missed walking through the building and seeing studios full of different mediums and methods – and people of all walks learning and growing creatively together. Our illustrations capture the diversity of studio practices at the Visual Arts Center, the physical texture of being present in real – not digital – spaces, and the collaboration that happens when we are able to be together safely. In the end – it's all about celebrating all that Visarts has to offer!
VISARTS: What projects are you most proud of? Do you have any exciting new upcoming projects?
GM+DK: Our focus right now is formalizing our collaborative studio, Fond Collective, and continuing to explore our creative process through a mix of mediums and applications that help answer our design challenges, wherever they may lead us. 
VISARTS: As part of the program, besides illustrating the catalog, you will also get to teach. What class/workshops are you teaching at Visarts in the fall?
GM+DK: Together we'll be leading a one-day workshop in Collaborative Collage and Ideation which will pair nicely with the illustrations for the fall catalog. Dashiell will be teaching adult classes in Pen and Ink Drawing, Experimental Comics, Drawing Horror, and an after-school class on Comics. Grace will be leading an adult class on the iPad digital drawing program Procreate and an after-school class on World-Building and Character Design.