The Visual Arts Center of Richmond Celebrates Its Teachers as ArtVenture Comes to a Close for the 2021 Summer Season 
The Visual Arts Center of Richmond (VisArts) hosted its annual teacher appreciation party in the Cabell Courtyard outside the art center. The event was emceed by former VisArts teacher turned Diversity Richmond ambassador, the incomparable Grace Wetpants. Over 100 people were in attendance: VisArts teachers, board members, staff, and friends of the organization.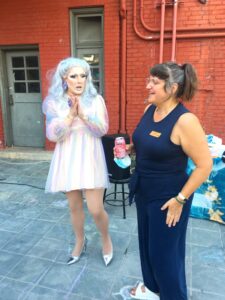 "This celebration typically happens at the end of summer, just as we wrap up ArtVenture, our summer camp program that brings in hundreds of kids for week-long sessions to learn various forms of art," says Stefanie Fedor, Executive Director of VisArts. "This year's celebration was especially meaningful, to be able to come together again after such a tough year last year and not being able to physically be together in the building." 
ArtVenture, is in its final week of the 2021 summer season. Since it launched in 2007, it has established itself as one of the most popular day camps in the region, winning honors from publications like Richmond Magazine and Style Weekly and garnering rave reviews from both kids and parents who keep coming back for more.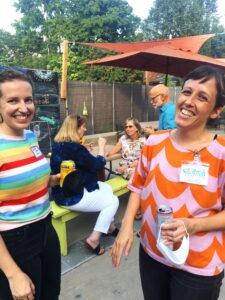 "ArtVenture is one of our favorite programs to run, and we have lots of students who take multiple week-long art classes throughout the summer" says Tesni Stephen, Education Manager at VisArts. "The pandemic made 2020 a challenging time, but this year, we were able to run ArtVenture with limited capacity and classes filled up. We were all eager and grateful to get back to art-making in person for teachers and students alike."
Each year, VisArts offers more than 1,000 visual and creative arts classes in clay, wood, fiber, painting, photography, printmaking, glass, metal, drawing, writing, decorative arts, and other visual media. ArtVenture provides students as young as 5 years-old with professional-grade studios in
which to work and access some of Richmond's most prominent professional artists. More than 200 artists teach for the organization, and local artists such as Tommy Van Auken, Mary McNeil, David Tanner, Kirk O'Brien, Sarah Hand all led summer camp workshops this year.