VisArts Accepting Make Space Mentors through September 12
The Visual Arts Center of Richmond is accepting applications for Make Space mentors through September 12.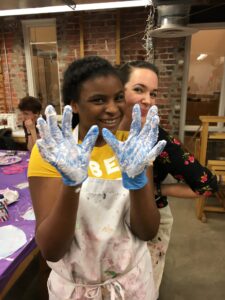 Make Space pairs 14 sixth-grade girls—all of whom attend Anna Julia Cooper Episcopal School—with 14 women for a year of mentorship and art-making. The big/little pairs meet on Thursday evenings from October through March and create art together in VisArts' studios, learning leadership skills and the art of self-expression. On a rotating basis, small groups kick off their nights with "Girl Talk," a special curriculum that helps the girls and their mentors discuss concepts relating to trust, confidence, communication, and self-efficacy. The program also includes field trips to local art galleries and other cultural institutions in the greater Richmond region.
Each year, VisArts recruits women to serve as Make Space mentors. Mentors need to have the capacity to commit to weekly classes on Thursday evenings from October through March as well as monthly mentor training sessions on Wednesday evenings.
This year we are adapting our program to meet the safety needs of our mentees and our partner, Anna Julia Cooper Episcopal School. These changes include requiring masking at all times, designing activities to accommodate safe social distancing and requiring staff, mentors and guest artists to be fully vaccinated.