VisArts Resident Artist Exhibition Celebrates Diverse Mediums in a Week-long Exhibition, "Where the Pieces Fall"
The Visual Arts Center of Richmond (VisArts) hosted over 140 guests at the opening for "Where the Pieces Fall," a culmination of works by 15 Studio Access resident artists at VisArts. The artists used different mediums to answer the question, "What happens when something falls apart? Can they be put back together and become something new?"
"Where the Pieces Fall" was curated by participating resident artist, Unicia Buster and VisArts Gallery Coordinator, Emily Nixon. It featured a wide variety of media, from photography, painting, ceramics, textiles, letterpress, and more. The exhibition represented this diverse group of resident artists who took advantage of VisArts' 17 studios, while showcasing so many different processes such as natural dying, cyanotype, animation and installation-based work within VisArt's True F. Luck Gallery.  Some of the artists had the chance to speak about the work they made over their 6-month residency and what the experience has been like for them.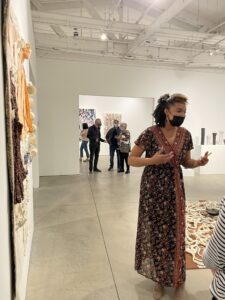 "This residency gave me the permission to break out of my comfort zone and try new mediums like felt, screenprinting and I also made one of the largest pieces I've ever done! Most importantly the studio residency gave me the opportunity to meet and connect with such awesome artists." said paper artist, Raven N. Smith who was one of the VisArts residents who showed work in the exhibition.
The Visual Arts Center of Richmond provided the space and opportunity for these artists to be inspired, form a community, and create together. Whether the artist had a planned direction, experimented, or was influenced by their fellow artists and the studio spaces, each individual journey led to the pieces of this diverse exhibition which celebrates the practices and new pieces that were cultivated during the residency.   "Where the Pieces Fall" runs until November 7th at the Visual Arts Center of Richmond.
If you would like to learn more about the Studio Access Resident program, check out our website. This residency is designed to support emerging and established visual artists as they develop new ideas and foster artistic exploration by providing free access to VisArts' 17 communal studio spaces.