Solo Exhibition by Atlanta-based Artist Curtis Patterson Goes on View at VisArts, November 18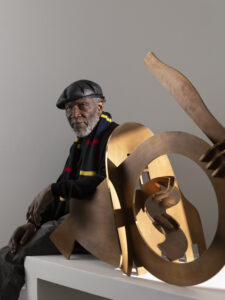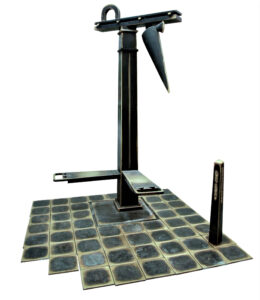 An exhibition of work by Atlanta-based artist Curtis Patterson titled 'Journey Through' will open at the Visual Arts Center of Richmond (VisArts) on Friday, November 18.
'Journey Through' will showcase a selection of bronze and steel abstract sculptures from the 1980s to today. Patterson's unique command of materials and his dynamic compositions point toward an illustrious, decades-long career as a sculptor of engaging and often large-scale public works that emphasize a spectrum of African diasporic experiences. The exhibition is curated by Melissa Messina.
The November 18 opening at VisArts will start with a gallery talk at 5:30 p.m. A public reception will follow from 6 to 8 p.m. The exhibition runs through January 9, 2023.
"Curtis Patterson's sculptures are important to national conversations about representation in contemporary public art," said Stefanie Fedor, executive director of the Visual Arts Center of Richmond. "This exhibition is not only visually stunning but presents content that we think Richmond audiences would be particularly interested in."
Born in Shreveport, LA, Curtis Patterson's work has transformed from painting, woodworking, and ceramics to bronze and fabricated steel sculpture and printmaking. Patterson earned his BA in Art Education from Grambling State University, an HBCU listed on the African American Heritage Trail. He earned his MFA from Georgia State University in Atlanta and was the first African American to receive an MFA in Sculpture from GSU.
With inspirations in art history ranging from Hale Woodruff to Henry Moore, Patterson's large-scale sculptures and multi-dimensional wall works emphasize a spectrum of African diasporic experiences within the context of modern and contemporary art. His abstract approach is also inspired by a longtime interest in improvisational jazz. Motifs and forms in the Rocker Series, for example, encourage an interpretive dialog between the artist, the artwork, and the viewer. These slot-fitted, interlocking, geometric shapes provide balance and kinetic movement.
Other works on view, such as Shango's Friends, highlight Patterson's continuous use of African symbols, such as the Yoruba double ax and double iron as visual elements that, in his words, "pay tribute to domestic labor implemented by people of African descent." From his 1980's series Unbroken Connections, which celebrates such leaders as Rosa Parks and Nelson Mandela, to his most recent mask-inspired wall reliefs Diasporic Reflections, Patterson demonstrates a longstanding commitment to "raising consciousness about a people who have given so much of themselves."
Patterson was a faculty member at The Atlanta College of Art from 1976 to 2007. He entered the realm of large-scale, public work with "Cometh the Sun" in 1977, commissioned by the City of Atlanta's Bureau of Cultural Affairs. His work includes commissions and permanent public sculpture installations in several prominent cities in the United States including: Atlanta, Georgia; Columbus, Ohio; St. Paul, Minnesota; Shreveport, Louisiana and Dallas, Texas.
Patterson is represented by Laney Contemporary in Savannah, GA, where his first solo gallery exhibition was held in April 2022, curated by Melissa Messina. Laney Contemporary will also present his work in December 2022 at Untitled Art Fair in Miami, FL.