VisArts invites you to upcoming exhibition: Scavenger Deities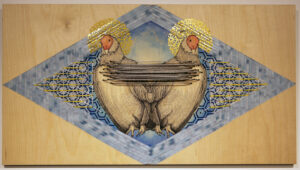 An exhibition of work by Washington, D.C.-based artist Rachel Schmidt titled Scavenger Deities will open at the Visual Arts Center of Richmond (VisArts) on Friday, September 8 with an artist talk and opening from 5:30-7:30 p.m. The exhibition is curated by Jayme McLellan and will be on view at VisArts' True F. Luck Gallery until October 22, 2023.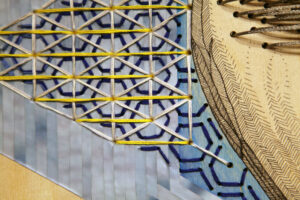 Scavenger Deities is a multi-media exhibition repurposing museum waste and discarded materials into intricate artworks about nature. In response to shared and personal trauma from a global pandemic, Schmidt leaned into her creative practice to transform waste into complex, layered works of sacred patterns and animal totems; transforming what might be discarded into intentional, invaluable works of transcendence and reflection. The three rooms within the True F. Luck Gallery at VisArts are divided into thematic spaces of loss, healing, and the possibilities of the future, examining ways to heal and adapt through lenses of animal protagonists whose natural abilities make them purveyors of wisdom and magic.
"For many, nature was a space of comfort, beauty and escape during the more isolated years of the pandemic," says Executive Director of VisArts, Jordan Brown, "This exhibition provides us with a space to reflect on that time, but also to admire and contemplate the power of the natural world and our role in it as a community and society."
Visitors to this exhibition may recognize some of the materials Schmidt used to create the final works. Schmidt visited the Center last summer, collecting unclaimed artworks, studio waste and materials flagged for disposal, and incorporated these items into her work. Pieces in the exhibition include unclaimed ceramic pots from clay classes, drawings from summer camp table covers, pen tops, and more.
In alignment with her process and the content of her work, Schmidt also works to leave a positive environment impact on each organization she works with. Collaborating with VisArts staff, Schmidt helped facilitate a long-lasting positive impact when it comes to energy use by funding improvements to VisArts facility with her own exhibitions budget, including motion-sensor lighting controls in studios and smart, energy-saving plugs for large equipment in select areas of the building. These measures will help VisArts lower our energy consumption in the long-term.
Rachel Schmidt is an installation artist based in Washington, DC. She received her MFA from the Maryland Institute College of Art in Baltimore, MD. Rachel has worked as an artist-in-residence at the Arlington Arts Center, Taipei Artist Village, Vermont Studio Center, Taller Portobelo Norte in Panama, and Sabhal Mor Ostaig on the Isle of Skye, Scotland. She has exhibited internationally and throughout the U.S. including The Smithsonian Arts and Industries Building in Washington, DC, Spring Break Art Fair in New York, and GAIT LA project space in Los Angeles, CA. Rachel has also been notably reviewed in Sculpture Magazine, The Washington Post, ArtNews, Hyperallergic, and numerous other publications.
Jayme McLellan is an artist, curator, educator, and writer. She holds an undergraduate degree from St. Mary's College of Maryland and a graduate degree in museum studies from Harvard University Extension School. McLellan has co-founded Transformer as a non-profit arts organization designed to support emerging artists and founded Civilian Art Projects, a commercial gallery that has supported hundreds of artists in over 120 exhibitions, talks, events, and other public programs. She is also the project manager and co-curator for the ongoing HARD ART DC 1979 project, a book (Akashic Books, Ltd.) and traveling exhibition about the early DC punk scene. McLellan teaches curatorial practice, art history, and professional practices for visual artists in multiple colleges and universities. She is currently an adjunct professor at George Mason University.
Scavenger Deities will include a 5:30 p.m. artist talk with both Rachel Schmidt and curator Jayme McLellan, followed by a public reception from 6 to 8 p.m.      
The Visual Arts Center of Richmond hosts at least four contemporary art exhibitions each year in the True F. Luck Gallery. The gallery is open between the hours of 9 a.m. and 9 p.m. every day. Admission to the gallery is free.