Lukaza Branfman-Verissimo, Lil Lamberta, Valeska Populoh and members of their respective communities 
September 9 - October 31, 2022
Community Build
September 9 – October 31, 2022
Opening reception on Friday, September 9, 5:30 p.m. – 8 p.m. , and a performance by Open Space Education students, in collaboration with Lil Lamberta & All the Saints Theater
The Visual Arts Center of Richmond presents an exhibition of work by and with Lukaza Branfman-Verissimo, Lil Lamberta, Valeska Populoh and members of their respective communities in the True F. Luck Gallery. 
Community Build creates space for dialogue, conversation, dance, and echoes between three multidisciplinary artists whose practices include and call in many. For this exhibition, Lukaza Branfman-Verissimo, Lil Lamberta and Valeska Populoh serve as stewards and facilitators of a much bigger art and social justice ecosystem. Community Build is rooted in storytelling and collaborative work. Through this, it explores the interdependence of how the artists make work in relation to each other, the implications of this environment and the future that we all as a community are building every day. 
The Visual Arts Center of Richmond invites you to join us throughout this exhibition and the many layers of this work, the gallery, free workshops, community builds, performances and more. Check our website and social media channels for details on programming events.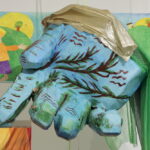 All Hands In Community Build
Join us for "All Hands In," a community build facilitated by Lukaza Branfman-Verissimo and Valeska Populoh. These community build workshops are an opportunity to work with the talented exhibiting artists in constructing puppets, painting banners, creating wearables, and screen-print signs, with the goal to craft embodied works of art that will go into the All the Saint's Halloween Parade on October 31.  Open to the public, no Registration is Needed.
Both workshops will be held at the Visual Arts Center of Richmond on these dates:
Friday, October 28 from 3-7 p.m.
Saturday, October 29 from 12-5 p.m.